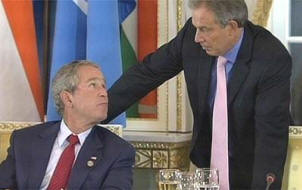 George W. Bush had this Middle East peace advice for British Prime Minister Tony Blair at the G8 Summit in St. Petersburg, Russia: "You see, the ... thing is what they need to do is to get Syria, to get Hezbollah to stop doing this shit and it's over." Meanwhile, Blair has other things on his mind -- he's been outed in a British newspaper as a bi-sexual and he's facing a huge scandal over selling peerages in the House of Lords and New Year's honors in return for campaign contributions to his "New Labor" Party -- deals arranged by his arrested chief fundraiser Lord Michael Levy.
Bush's comments were picked up by an open microphone. Bush also told Blair that he wanted UN Secretary General Kofi Annan to call Syrian President Bashar Assad about the Middle East war. Bush said, "I felt like telling Kofi to call, to get on the phone to Bashad [Bashar Assad] and make something happen."
Bush's and Blair's reputed bi-sexuality may have had something to do with this exchange also picked up at St. Petersburg by the open microphone [Bush initiated the conversation by yelling, "Yo, Blair!"]:
"Blair: What does he think? He thinks if Lebanon turns out fine, if we get a solution in Israel and Palestine, Iraq goes in the right way...

Bush: Yeah, yeah, he is sweet

Blair: He is honey. And that's what the whole thing is about. It's the same with Iraq

Bush: I felt like telling Kofi to call, to get on the phone to Bashad [Bashar Assad] and make something happen

Blair: Yeah

Bush: [inaudible]

Bush: We are not blaming the Lebanese government

Blair: Is this...? (Blair taps microphone in front of him and the sound is cut.)"
Question for Bush and Blair. What man involved in Middle East policy is "sweet," according to Bush and "honey," according to Blair? Both Blair and Bush are strongly rumored to be bi-sexual. Visions of former New Jersey Governor Jim McGreevey (who was stung in an Israeli intelligence "honey trap") and White House male prostitute Jeff Gannon come to mind. Tricia McDaid, a former Labor Party aide revealed that Blair and Prime Minister heir apparent Gordon Brown had a homosexual fling when they were in opposition. Similar allegations have surrounded Blair and EU Commissioner Peter Mandelson. Bush's trysts with Yale Skull and Bones room mate and US Ambassador to Poland Victor Ashe are legendary. It is interesting to note that male prostitute and faux journalist Jeff Gannon was present at the White House on two occasions when Bush and Blair were meeting: 4/16/04 Gannon entered at 10:51 am -departed 3:08 (2:41-3:09) (Bush/Blair press conference) and the really interesting Gannon visit: 11/12/04 Gannon entered 10:57 am and did not exit the White House on the day that Bush was again meeting with Blair.
________________________
Read from Looking Glass News
George W. Bush's marital problems have just taken another turn for the worse.
Even Bush's crap is classified top secret
Bush's Crawford Ranch: An Elaborate Set
Things You Don't Know You Know George W. Bush Knows
Go to Original Article >>>
The views expressed herein are the writers' own and do not necessarily reflect those of Looking Glass News. Click the disclaimer link below for more information.
Email: editor@lookingglassnews.org.