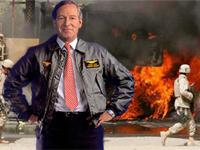 George David, CEO of United Technologies, superimposed over a roadside bombing in Iraq.
Profiteering execs don't usually brag about their windfalls from the 'war on terror' -- unless they're talking to potential investors.
Like Sen. George "macaca" Allen in a crowd of white Virginia Republicans and Rep. Katherine "God chooses our rulers" Harris with a reporter for a Baptist newspaper, defense executives tend to let their hair down in conversations with investment analysts.
In their glossy annual reports, military contractors are typically modest about how much loot they've gotten from a bloody and increasingly unpopular "War on Terror." But read the transcript of virtually any Q&A session with Wall Street and the truth comes out. While millions are suffering from the human and economic costs of the Iraq war, the violence has been very good for the bottom lines of military contractors and their top executives.
Black Hawk up
"Obviously, military was a big bang for us in the post-September 11 period," crowed George David, CEO of United Technologies, in a meeting with analysts last December. UTC makes Black Hawk helicopters and fighter jet engines, along with civilian aircraft and elevators. David went on to boast that UTC had beaten all its competitors because the military side of its business had more than made up for a 25 percent drop in commercial aerospace revenues.
Not surprisingly, David's personal rewards haven't been too shabby either. Since 9/11, he has been by far the highest paid defense executive, hauling in a total of more than $200 million. David and other top defense executives are highlighted in a new report, "Executive Excess," by the Institute for Policy Studies and United for a Fair Economy (PDF).
So confident is Mr. David of continued military largesse that he's biting the hand that feeds him. In a lawsuit that is the first of its kind, UTC is suing the Pentagon to block the public release of documents related to alleged quality control problems in its Black Hawk factories. The Bush administration, not exactly known for its openness, had agreed to make the documents public in response to a journalist's Freedom of Information Act request.
A pop for "Uncle Bucky"
"Obviously, we got a pop during the Iraq and Afghani thing," CEO Gerald Potthoff of Engineered Support Systems International candidly if indelicately told an investment publication last year. A big pop indeed. A series of war-related contracts for logistical services, some awarded on a no-bid basis, drove company earnings to record levels and set up executives for a lucrative sale of the company to another defense contractor, DRS Technologies, earlier this year.
Among the beneficiaries of that sale: President George W. Bush's uncle, William H. T. Bush, an ESSI director, who cleared $2.7 million in cash and stock. Known to the president as "Uncle Bucky," he claims he had nothing to do with the company's landing lucrative defense contracts.
The Securities and Exchange Commission is now investigating whether company officials went even further to jack up their war windfalls by manipulating the value of their stock options. In 2004, Potthoff's pay, including options gains, came to nearly $40 million.
Casualties = $$
Investors shouldn't trouble their little heads over the possibility of a U.S. troop withdrawal from Iraq, Health Net CEO Jay Gellert said in a conference call, since the military's own medical capacity will be stretched "into the foreseeable future" by the huge number of injured troops. That's reassuring for Health Net, which, thanks to Pentagon outsourcing, provides managed care services to as many as three million persons in the military and their families.
Another company spokesperson boasted of how war-time stress has turned its mental health services into a "fast-growing business."
The military's booming health care needs have sent CEO Gellert's personal fortunes soaring. He took home a total of more than $28 million during the past four years, compared to only $2.3 million during the four preceding years. That 1,134 percent increase is the biggest enjoyed by any defense executive.
Upbeat reports such as these have helped make Wall Street bullish on defense. The IPS/UFE study found that the top 34 military contractors had a 48 percent increase in their share prices between the end of 2000 and the end of 2005. By contrast, the S&P 500 dropped 5 percent during that period.
These stock gains have translated into big paydays for defense industry executives. The top 34 enjoyed a doubling of their compensation during the four years after 9/11.
Business grows. Stock price rises. CEO gets big reward. That's the American way, right?
Even during peacetime, there are strong arguments for broadening the definition of executive performance beyond the bottom line. Everyone, not just shareholders, has a real stake in how corporations are run and how executives are paid. Compensation should reward responsible leadership, including strong environmental performance and job creation, and not be so astronomical as to exacerbate the inequalities that undermine our democracy.
During times of war, there are even stronger arguments for pay restraint. For years, experts like management guru Peter Drucker have been advising against morale-killing pay gaps within companies. Imagine how it must feel to be risking your life every day on the front lines in Iraq, knowing that military contractors are getting grotesquely rich in the comfort of their executive suites? No wonder we're seeing the U.S. Marine Corps having to force their reservists back to the battlefield.
It's also no secret that defense executives tend to be well-connected politically. Why should we allow guys who play golf with top government officials to have personal profit motives for continuing the war -- or getting into new ones?
Congress could put an end to this by requiring that all defense contractors restrain executive pay to reasonable levels during wartime. This wouldn't need to be a fixed dollar cap. Procurement rules could instead deny defense contracts to companies that pay their top executives more than 20 times what their lowest-paid worker receives.
Current U.S. laws already deny government contracts to companies that discriminate against women and people of color. Why should we let our tax dollars subsidize war profiteering?
Sarah Anderson is a Fellow of the Institute for Policy Studies and a coauthor of the report "Executive Excess 2006: Defense and Oil Executives Cash in on Conflict," published by IPS and United for a Fair Economy.
______________________________
Soldiers die, CEOs prosper
Derrick Z. Jackson
The Boston Globe
More than 2,600 US soldiers have died in Iraq. July's toll for Iraqi civilians was 3,500, the deadliest month of the US occupation. Iraq's civil war is on pace to kill 25,000 to 30,000 civilians by year's end. If you add in the tens of thousands of deaths from the 2003 invasion (we do not know the exact number because the Pentagon won't comment), researchers will inevitably say that the body count has crossed 100,000.
All of this madness to stop a madman, Saddam Hussein.
The litany of US mistakes and excessive force has the Pentagon commissioning at least two secret strategy studies in Afghanistan and Iraq. ``This is a struggle for the soul of the Army," said Colonel Peter Mansoor, the head of the Army and Marine Corps Counterinsurgency Center.
Just as odorous, a mountain of corporate cash grows next to the piles of bodies. In this bizarre war where Iraqi civilians fear both suicide bombers and the United States, the biggest sacrifice that President Bush asked of American civilians was to get on a plane and show those terrorists a thing or two by going to Disney World.
Defense contractors took that request to a logical extreme. They built their own fantasy land.
There is no evidence of a contractor having a soul in the 13th annual Executive Excess CEO survey by the Institute for Policy Studies, a progressive think tank, and the Boston-based United for a Fair Economy. The report found that 34 defense CEOs have been paid nearly $1 billion since the Sept. 11, 2001, terrorist attacks.
As soldiers have died in displaying personal patriotism, the pay gap between soldiers and defense CEOs has exploded. Before 9/11, the gap between CEOs of publicly traded companies and army privates was already a galling 190 to 1. Today, it is 308 to 1. The average army private makes $25,000 a year. The average defense CEO makes $7.7 million.
``Did this surprise us? No, because we've been watching since Sept. 11," said Betsy Leondar-Wright, communications director for United for a Fair Economy. ``While the rest of us were worrying about terrorism and mourning the people who died, the CEOs were maneuvering their companies to take advantage of fear and changing oil supply, not just for competition but for personal enrichment."
The top profiteers after 9/11 were the CEOs of United Technologies ($200 million), General Dynamics ($65 million), Lockheed Martin ($50 million), and Halliburton ($49 million). Other firms where CEO pay the last four years added up to $25 million to $45 million were Textron, Engineered Support Systems, Computer Sciences, Alliant Techsystems, Armor Holding, Boeing, Health Net, ITT Industries, Northrop Grumman, Oshkosh Truck, URS, and Raytheon.
While Army privates died overseas earning $25,000 a year, David Brooks, the disgraced former CEO of body-armor maker DHB, made $192 million in stock sales in 2004. He staged a reported $10 million bat mitzvah for his daughter. The 2005 pay package for Halliburton CEO David Lesar, head of the firm that most symbolizes the occupation's waste, overcharges, and ghost charges on no-bid contracts, was $26 million, according to the report's analysis of federal Securities and Exchange Commission filings.
``Those examples take the cake, especially because it's all related to their government contracts, which is money straight out of the taxpayer's pocket," Leondar-Wright said.
The Executive Excess report, with the help of the Wall Street Journal's 2006 survey of executive compensation, made similar observations of oil executives as their firms enjoy record profits during war. The pay gap between the average oil and gas CEO and the average oil worker is 518 to 1. The general national CEO to worker gap is 411 to 1. The report said that the typical oil construction laborer would have to work 4,279 years to match the $95 million pay last year for Valero Energy CEO William Greehey.
This is so out of line that the authors of the Executive Excess report recommend wartime pay restraints for defense CEOs and a permanent congressional watchdog panel for contract fraud and waste. Companies that cannot adhere to restraints should be ineligible for contracts, they said.
The report said ``democracies decay when one segment of society flourishes at another's expense." Leondar-Wright said, ``It is now at the point where we have lost any sense of proportion. There is no sense of shared sacrifice, no sense that we're all in this together." Spreading democracy to Iraq is far-fetched when defense and oil CEOs speed its decay at home. They are all in it for themselves, at our expense.
Derrick Z. Jackson's e-mail address is jackson@globe.com.
___________________________
Read from Looking Glass News
Bush's Uncle Earned Millions in War Firm Sale
Iraq occupation makes possible record profits for British private military contractor
British arms supplies fuelling abuses in Nepal, says Amnesty
Wesley Clark: Continuing to cash in with the military-industrial complex
US, Global Arms & Huge Infant Deaths
Senator Feinstein's War-Profiteering
Cheney's boundless Iraq profiteering
The Growing Problem of Defense Industry Profiteering
Top War Profiteer Doug Feith Retires Wealthy
Canada in Afghanistan: Rash Afghanistan mission produces corporate profits
They plundered Iraq for fun and profit
Go to Original Article >>>
The views expressed herein are the writers' own and do not necessarily reflect those of Looking Glass News. Click the disclaimer link below for more information.
Email: editor@lookingglassnews.org.