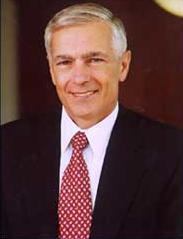 Wesley Clark: Continuing to cash in with the military-industrial complex
Retired General Wesley Clark has once again enmeshed himself in the military-industrial complex. Yesterday, Viaspace, a firm that bills itself as transforming "proven space and defense technologies from NASA and the Department of Defense into hardware and software solutions" for homeland security and sensor technology, named Clark as a member of its board of directors. Clark said, "Viaspace is leveraging previous NASA and DOD investment at the Jet Propulsion Laboratory to develop new generations of energy and security products." After he announced his candidacy for president in 2004, Clark resigned from the board of Arkansas-based Acxiom, a data mining firm. While working for Acxiom, Clark personally lobbied Vice President Dick Cheney, the CIA, Justice Department, and Transportation Department to sell the Bush administration on an Acxiom system that would serve as the basis for the "No Fly List" and other terrorist watch databases. A 2005 privacy study undertaken of a sample of Acxiom personal data reports found that their reports were 100 percent inaccurate -- with even the genders of data subjects being erroneous.
Go to Original Article >>>
The views expressed herein are the writers' own and do not necessarily reflect those of Looking Glass News. Click the disclaimer link below for more information.
Email: editor@lookingglassnews.org.