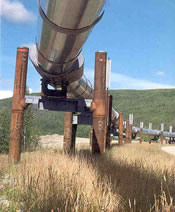 Longtime oil industry critic paints picture of institutionalized graft and corruption in GOP-ruled Alaska.
Longtime Alaska oil pipeline critic Chuck Hamel told a news conference at the National Press Club in Washington yesterday that the tactic that British Petroleum/Amoco uses best in its cover-up of the corrosion of the Prudhoe Bay pipeline is "Lie, lie, lie." Hamel described BP's 75-square mile Prudhoe Bay operation as a virtual "protectorate" of the oil firm, complete with its own sheriff and police department. Hamel said BP "won't show the media anything" at Prudhoe. After 16 miles of Prudhoe Bay's pipeline was found to be corroded last month, the flow of oil has been cut in half. Hamel said that BP pipelines are "leaking everywhere" and pointed out that BP's policy is to "operate systems to failure."
In addition, the Trans-Alaska Pipeline System (TAPS) also suffers from corrosion, similar to that which afflicts Prudhoe Bay, according to Hamel. In a Sept. 4, 2006, letter to House Subcommittee Chairman on Oversight and Investigations of the Energy and Commerce Committee Joe Barton (R-TN), Hamel wrote, "On . . . September 19 [2005], Alyeska President Steve Marshal was ordered overnight to BP London carrying illicit Alyeska corrosion financials, inflated corrosion control expenditures on the TAPS. Under Federal Common Carrier regulations these financials, even if legitimate, would have been required to be audited and shared with the minority owners, Exxon, Conoco, et al. Alyeska Strategic Planning Analyst, Glen Plumlee, adamantly refused [to sign off on the documents] under pressure throughout the day, claiming it was a violation of the Sarbanes Oxley Act (spawned by the Enron debacle). Another Alyeska employee finally signed off on the document at the last minute. It was required in hard copy and not to be traced by electronic transmission." The BP/Alyeska actions have triggered investigations by the Securities and Exchange Commission and the Department of Labor.
Hamel became famous some years ago as a result of his revelations about problems with the Trans Alaska Pipeline and the oil consortium that operates it, Alyeska Pipeline Company. Hamel was subjected to a humiliating investigation by Wackenhut, a private security firm hired by Alyeska to identify Hamel's inside sources. Wackenhut went so far as to rummage through Hamel's garbage looking for phone records and other evidence.
Hamel said he brought the Prudhoe Bay pipeline corrosion concerns to state of Alaska and federal officials seven years ago but was that they "blew off" his warnings. Among those who failed to act, according to Hamel, was Ernesta Ballard, the then-chief of the Environmental Protection Agency's Region 10. GOP Governor Frank Murkowski has since appointed Ballard as the commissioner of the Alaska Department of Environmental Conservation (ADEC). Hamel said ADEC and the Alaska Division of Oil and Gas were complicit with BP in covering up the corrosion problems with the Prudhoe Bay pipeline. He pointed out that BP's law firm that is handling the firestorm that erupted over the pipeline failure is Vinson and Elkins, the same firm that represented Enron's Ken "Kenny Boy" Lay.
When asked by WMR if a current federal investigation of bribes paid to mostly GOP Alaska state legislators, including Senator Ted Stevens' son, Alaska Senate President Ben Stevens, by an Alaska oil services firm, Hamel revealed that federal investigators were looking into collusion between Alaska oil companies and state regulators. Hamel also said there is a continuing Department of Justice investigation of a cover-up by state regulators in the purposeful disposal of oil into the Beaufort Sea in 2003 by Pioneer Oil.
____________________
Read from Looking Glass News
BRITISH PETROLEUM'S "SMART PIG"
Big Ag, Oil and Tobacco Will Kill You For a Profit
Oil Company CEO Pay Averaged $32.7 Million in 2005, Study Says
Behind the Spin, the Oil Giants are More Dangerous Than Ever
The 7 Habits of Highly Effective Corporations
Go to Original Article >>>
The views expressed herein are the writers' own and do not necessarily reflect those of Looking Glass News. Click the disclaimer link below for more information.
Email: editor@lookingglassnews.org.