WASHINGTON -- Faced with a long, tough war in Iraq, the U.S. Army has struggled mightily with recruiting. Now the service is battling to keep the new soldiers it has brought into the force.

More of the new Army recruits are washing out of the service before completing their first enlistment, which typically runs three or four years. One recent memorandum from a senior Army personnel official branded the problem "a matter of great concern."

The Army's answer: Figure out a way to keep more of the soldiers who are now being forced out. "We need your concerted effort to reverse the negative trend," reads the internal Army memo, which was directed to senior commanders. "By reducing attrition 1% we can save up to 3,000 initial term soldiers. That's 3,000 more soldiers in our formations."

The memo comes in the wake of a string of recruiting problems for the service. Last month, the Army announced it was 6,659 soldiers short of where it wanted to be this year, on its way to a goal of recruiting 80,000 soldiers. Not long after it announced the recruiting shortfall, the service suspended recruiting operations for one day. The pause came after a series of incidents in which recruiters were found bending or breaking rules to meet their quotas of new enlistees.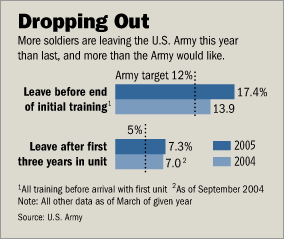 To keep more soldiers in the service, the Army has told battalion commanders, who typically command 800-soldier units, that they can no longer bounce soldiers from the service for poor fitness, pregnancy, alcohol and drug abuse or generally unsatisfactory performance. Typically such decisions are made at that level. Instead, the battalion commanders must send the problem soldiers' cases up to their brigade commander, who typically commands about 3,000 soldiers.
"Basically it is another set of eyes reviewing cases. It lessens the chance that we will separate people who might still make good soldiers," says Maj. Elizabeth Robbins, a Pentagon spokeswoman.
Army officials say the move isn't unprecedented. The service made a similar decision in 1998, when the strong economy and lack of a clear mission left the military struggling to meet recruitment goals.
Still, some Army battalion commanders are less than pleased with the Army's decision to try to keep more problem soldiers in the service. "It is the guys on weight control ... school no-shows, drug users, et cetera, who eat up my time and cause my hair to gray prematurely," says one Army battalion commander. "Often they have more than one of these issues simultaneously."
And some battalion commanders question whether it makes sense for brigade commanders to make decisions about which soldiers can cut it and which must go because the brigade commanders have less daily interaction with the soldiers and their immediate commanders.
One commander says the growing attrition problem can be traced to a slip in the quality of new soldiers as recruiters have increasingly struggled to hit their monthly quotas. "There are guys showing up at units with physical problems or other issues who you would not have seen a couple of years ago," says the commander.
In March, 17.4% of all new Army recruits failed to make it through training. Another 7.3% didn't finish their first three years with their unit. The Army's goal is to keep training losses below 12% and first-term enlistee losses below 5%.
Army officials say they haven't lowered quality standards in an effort to bring in more recruits or keep those soldiers they have already got. Gen. Peter Schoomaker, the Army chief of staff, "has been adamant on the subject of maintaining high standards," says one Army official.
Moreover, Army personnel experts say there is nothing in recent recruiting data to suggest that the service has taken a higher percentage of borderline soldiers, who either lack high-school degrees or score low on Army aptitude tests. "The kids who are coming into the Army are pretty high-quality kids," says Henry Leonard, the deputy director of manpower and training at the Rand Corp.'s Arroyo Center, which regularly analyzes personnel data for the Army.
Mr. Leonard says that part of the increase in attrition could be tied to the more rigorous training that soldiers are getting today because the Army is at war. In boot camp and unit training, the Army has stressed that every soldier -- from the front-line infantryman to the supply clerk -- could come under enemy fire and must be able to defend himself or herself.
When training is tougher, less-motivated soldiers tend to wash out of the service in higher numbers, Mr. Leonard says. Harder exercise and field training also could lead to more career-ending injuries, he adds.
At least one military-personnel expert questions whether the Army's changes will make much of a difference. "The higher quality the recruits, the lower the attrition," says Charles Moskos, a military sociologist at Northwestern University and architect of the Clinton administration's policy on gays in the military. "The whole story is that quality counts."
Write to Greg Jaffe at greg.jaffe@wsj.com3
Go to Original Article >>>
The views expressed herein are the writers' own and do not necessarily reflect those of Looking Glass News. Click the disclaimer link below for more information.
Email: editor@lookingglassnews.org.