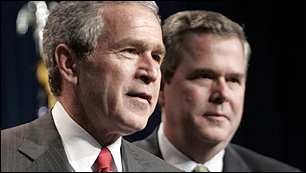 Cuba defense and Bush cartel insurrection involve three sets of brothers: ailing Fidel Castro and his brother Raul, George W. and Jeb Bush, and GOP Cuban-American Representatives Lincoln and Mario Diaz-Balart. The Bushes and their Florida Cuban friends are eyeing Cuban real estate and off-shore oil finds.
Brothers versus brothers. Bush and his right-wing Cuban-American friends and donors engaged in a macabre Castro death watch in Miami. President George W. and Florida Governor Jeb Bush, two brothers who owe their offices to the power of the right-wing Cuban-American community in south Florida, engaged in a macabre and sinister death watch for Cuban President Fidel Castro while being hosted by wealthy Cuban-American supporters.
As Castro was rushed to the hospital suffering from internal bleeding, just two weeks after visiting, along with Venezuela's President Hugo Chavez, the boyhood home of Che Guevara in Alta Gracia, Argentina, the Bush brothers began planning action against the Cuban government and the two Castro brothers -- Fidel and Raul. Defense Minister Raul Castro took over the reins of power from Fidel, the first time the Cuban leader had given up power since 1959.
The Bush brothers huddled at a Republican National Committee fundraiser with Jeb Bush's business mentor and partner, wealthy Cuban-American real estate developer Armando Codina, head of the Codina Group and close friend of George H. W. Bush. Codina sponsored the fundraiser at his Coral Gables home. Until 1994, the firm was known as the Codina-Bush Group. Codina and Jeb Bush made a fortune in developing southern Florida real estate properties. He invested $1000 in 1984 in a Miami office tower project and cashed out his shares in 1990 for a hefty $346,000. Before he left Codina in 1993, Jeb earned huge commissions for the sale of real estate to Japanese investors. Jeb also sold water pumps to Nigeria in a questionable deal involving Nigeria's military junta, M&W Pump, and another Bush company, Bush-El. These deals occurred at the same time that Jeb Bush was enmeshed in the savings and loan scandal involving Florida-based financial institutions.
As reported by WMR last November, the politically-powerful St. Joe Company has a significant investment in the Codina Group. After Jeb Bush became governor, he took care of his real estate business friends, selling them state-owned land at cut rate prices.
Joining the Bush brothers in Coral Gables were the Florida Cuban-American GOP congressional team of Representative Ileana Ros-Lehtinen, who best represents the fact that America's foreign policies on the Middle East and Latin America have been outsourced to two vocal and politically powerful special interests -- the Israeli and Cuban exile lobbies. Ros Lehtinen's mother was a Jewish-Cuban refugee from Cuba. Joining the Bush brothers in the Florida death watch huddle were another GOP brother team, Representatives Lincoln and Mario-Diaz Balart.
The brothers Bush and Balart and Ros-Lehtinen and Codina have their eyes set on lucrative real estate development schemes for post-Castro Cuba. The fact that oil has been discovered in Cuban waters has also earned the interest of the Bush-Cheney petroleum cartel. The Bush crime family and their associates see Cuba as a place where they can either force European and Canadian hotels to pay original land owners compensation for deals made with the Castro government or forfeit their properties to Miami-based Cubans working in concert with multi-billionaire non-Cuban GOP moguls, including another major Bush donor in Florida, real estate developer, GOP financier, pro-Israel activist, and former ambassador to Australia and Italy, Mel Sembler.
Like buzzards and hyenas waiting for the death of an old elephant, the Bush cartel and their Florida friends are anxiously awaiting the death of Castro in order to devour the self-sufficient nation he and his fellow Cuban revolutionaries took so long to build. And there is little wonder that the Cuban government insists on keeping Fidel Castro's medical condition secret. They, too, are aware of the Coral Gables GOP confab and have said they do not want to tip off the plotters to the north about their leader's condition.
_______________________
Read from Looking Glass News
Washington Plots Regime Change
Planning for the recolonization of Cuba
Not-so-funny political humor of the day
Go to Original Article >>>
The views expressed herein are the writers' own and do not necessarily reflect those of Looking Glass News. Click the disclaimer link below for more information.
Email: editor@lookingglassnews.org.