Based on chemical analysis of WTC structural steel residue, a Brigham Young University physics professor has identified the material as Thermate. Thermate is the controlled demolition explosive thermite plus sulfur. Sulfur cases the thermite to burn hotter, cutting steel quickly and leaving trails of yellow colored residue.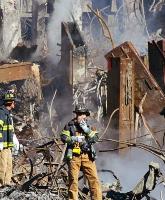 wtc steel with diagonal cut, thermate residue
Prof. Steven Jones, who conducted his PhD research at the Stanford Linear Accelerator Center and post-doctoral research at Cornell University and the Los Alamos Meson Physics Facility, has analyised materials from WTC and has detected the existence of thermate, used for "cutting" the steel support columns, as evident in the photo below.
Dr. Jones is a co-founder of Scholars for 911 Truth.
Dr. Jones in earlier work pointed to thermate as the likely explosive that brought down the WTC1, WTC2, and WTC7 skyscrapers. But only recently was physical material analysed in the lab and the presense of thermate announced. The samples were provided Dr. Jones team from redundant sourses.
Both BYU and Prof. Jones have been offered additional grants if he would "change the direction" of his research. In addition, there have been threats made by an individual who "is taking action" to stop Steven Jones' research, specifically his experiment with thermites (aluminothermics), on the grounds his work may be helpful to "terrorists". Jones notes that much more detailed information on both thermite and thermate is readily available on the internet.
__________________________
Read from Looking Glass News
Evidence Of Thermite On WTC Core Columns - Photo
Physicist says heat substance felled WTC
Scholars for 9-11 Truth Press Conference: Alexandria, Va.
The Destruction of the World Trade Center
On 9/11: Was the Asbestos-Laced World Trade Center "Disposable"?
Scientific Evidence that Official 9/11 Story is a Lie
Former German Minister Says Building 7 Used To Run 9/11 Attack
The CRIME that Covered-up the Coup
The 1975 World Trade Center Fire
Landmark Implosion Looks Like WTC Collapse
Twin gas tanks' demolition foreshadows Twin Towers' demolition
Go to Original Article >>>
The views expressed herein are the writers' own and do not necessarily reflect those of Looking Glass News. Click the disclaimer link below for more information.
Email: editor@lookingglassnews.org.