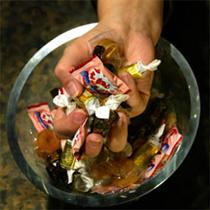 Dish of candy.CREDIT: Brian Gavriloff, Edmonton Journal
Montrealer Viviane Maraghi has always considered herself pretty good when it comes to avoiding pollution.
She works with an environmental group and makes an effort to buy organic and biological food whenever possible. Her son Aladin Bonin, 10, has been raised on organic food ever since he was a baby.
So it came as even more of a shock for Maraghi to learn that not only did she and her son test positive for dozens of toxic chemicals in their blood but, in the case of several chemicals, Aladin's level was even higher than hers. In fact, Maraghi and her son's results were the highest among a half dozen families tested across in the country.
"I was staggered," said the Plateau Mont Royal resident.
The comments came after the group Environmental Defence released a new study Thursday revealing that children as young as 10 are showing signs of contamination by toxic chemicals. While some, like insecticides, are in the environment, others are found in such innocuous everyday items as non-stick pans, computers and mattresses or furniture treated with stain repellent chemicals.
Among the five families tested, on average parents tested positive for 32 of the 68 chemicals tested for while children showed an average of 23 chemicals.
While the levels in many cases were low, some of the chemicals found can cause reproductive disorders, harm the development of children or are suspected of causing cancer or neurological problems.
"In total, 38 carcinogens, 23 hormone disruptors, 12 respiratory toxins, 38 reproductive/developmental toxins and 19 neurotoxins were detected in the study volunteers," says the study.
Chemicals like DDT that have been banned in Canada for years tended to be higher in the parents, but were also found in children born after the products were removed from the shelves. As for the children, in many cases they tested higher than their parents for chemicals associated with stain repellents, flame retardants, heavy metals, organophosphates, insecticide metabolites and polycyclic aromatic hydrocarbons.
Rick Smith, executive director of Environmental Defence, described the study as groundbreaking, saying it reveals for the first time the extent to which children are being affected by toxic pollutants.
"Pollution is now so bad in our country that the bodies of our children have higher levels of pollution than their parents."
The tests were conducted to underscore the group's call for the Canadian government to follow the lead of several other countries and ban some of the more dangerous chemicals that are contaminating Canadian kids. If George W. Bush's government can ban them, so can Canada, argued Smith. Otherwise, products containing the chemicals risk being dumped in Canada.
Smith said his group plans to ask Environment Minister Rona Ambrose and the environment critics from various parties to undergo testing as well to sensitize them to the problem.
Asked about the study during question period, Ambrose said the issue is one that she is taking seriously. Both she and Health Minister Tony Clement will undergo the testing, she said.
Maraghi, who tested positive for 36 chemicals while her son tested positive for 25, said neither has experienced any health problems that they believe could be linked to the contamination. However, that's not going to stop her from making significant changes in her household and from trying to determine where the chemicals contaminating their bodies have been coming from.
ethompson@thegazette.canwest.com
Montreal Gazette
Go to Original Article >>>
The views expressed herein are the writers' own and do not necessarily reflect those of Looking Glass News. Click the disclaimer link below for more information.
Email: editor@lookingglassnews.org.