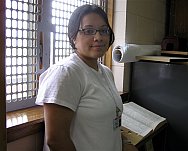 Inmate Amanda Espinoza stands in the Dakota Women's Correctional Rehabilitation Center in New England, N.D., on Wednesday, May 10, 2006. The 21-year-old Grand Forks native said she wants to raise her son and attend college once she completes her 3-year prison term for failing to comply with her probation on an auto theft conviction. Oklahoma, Mississippi and the Mountain states have set the pace in increasing the imprisonment of women, while several Northeastern states are curtailing the practice, according to a new report detailing sharp regional differences in the handling of female offenders. (AP Photo/James MacPherson)
U.S. Prisons, Jails Grew by 1,000 Inmates a Week From '04 to '05; 1 in 136 Residents Behind Bars
Prisons and jails added more than 1,000 inmates each week for a year, putting almost 2.2 million people, or one in every 136 U.S. residents, behind bars by last summer.
The total on June 30, 2005, was 56,428 more than at the same time in 2004, the government reported Sunday. That 2.6 percent increase from mid-2004 to mid-2005 translates into a weekly rise of 1,085 inmates.
Of particular note was the gain of 33,539 inmates in jails, the largest increase since 1997, researcher Allen J. Beck said. That was a 4.7 percent growth rate, compared with a 1.6 percent increase in people held in state and federal prisons.
Prisons accounted for about two-thirds of all inmates, or 1.4 million, while the other third, nearly 750,000, were in local jails, according to the Bureau of Justice Statistics.
Beck, the bureau's chief of corrections statistics, said the increase in the number of people in the 3,365 local jails is due partly to their changing role. Jails often hold inmates for state or federal systems, as well as people who have yet to begin serving a sentence.
"The jail population is increasingly unconvicted," Beck said. "Judges are perhaps more reluctant to release people pretrial."
The report by the Justice Department agency found that 62 percent of people in jails have not been convicted, meaning many of them are awaiting trial.
Overall, 738 people were locked up for every 100,000 residents, compared with a rate of 725 at mid-2004. The states with the highest rates were Louisiana and Georgia, with more than 1 percent of their populations in prison or jail. Rounding out the top five were Texas, Mississippi and Oklahoma.
The states with the lowest rates were Maine, Minnesota, Rhode Island, Vermont and New Hampshire.
Men were 10 times to 11 times more likely than women to be in prison or jail, but the number of women behind bars was growing at a faster rate, said Paige M. Harrison, the report's other author.
The racial makeup of inmates changed little in recent years, Beck said. In the 25-29 age group, an estimated 11.9 percent of black men were in prison or jails, compared with 3.9 percent of Hispanic males and 1.7 percent of white males.
Marc Mauer, executive director of The Sentencing Project, which supports alternatives to prison, said the incarceration rates for blacks were troubling.
"It's not a sign of a healthy community when we've come to use incarceration at such rates," he said.
Mauer also criticized sentencing guidelines, which he said remove judges' discretion, and said arrests for drug and parole violations swell prisons.
"If we want to see the prison population reduced, we need a much more comprehensive approach to sentencing and drug policy," he said.
_______________________________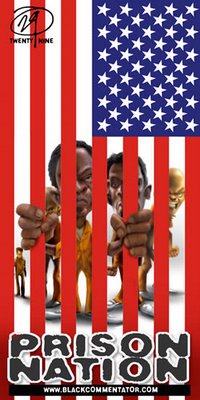 Putting Blacks in Prison is the Latest Legacy of Slavery
Source: Florida Times Union
by Tonyaa Weathersbee
For a minute, I almost wished I could dismiss Bryan Stevenson as a fanatic for his scary remarks on how a justice system stacked against black people is poised to push them back into the Jim Crow days.
But Stevenson, a lawyer who is the executive director of the Equal Justice Initiative of Alabama -- a nonprofit organization in Montgomery that represents poor people and Death Row prisoners who believe they have been unjustly convicted -- is no kook. And while what he said was scary, it was also sad.
And sobering.
"We're at a point in which we are incarcerating more people than ever before," Stevenson told a group of journalists at a symposium on civil rights at North Carolina A&T State University here.
"For black people, mass incarceration is becoming the fourth institutional barrier to progress for African-Americans. The first was slavery. The second was the Reign of Terror (before Reconstruction when newly freed slaves were being terrorized by the Ku Klux Klan). The third was Jim Crow."
Right now, Stevenson said, one out of three black men aged 18 to 39 will be jailed, imprisoned, or on parole or probation at some point in their lives. But that trend is being fueled by those who have committed minor, nonviolent crimes.
For black people, it is also fueled by sentencing disparities. In Alabama, for example, white people who comprise the majority of felony DUI convictions serve an average of 38 months in jail. But black people, who comprise the majority of simple drug possession cases, serve an average of 130 months.
And the collateral consequences of locking so many people away are doing more to further devastate black communities than to preserve them, he said.
"This increase (in incarceration) is not an increase of people who are out doing the carjackings," Stevenson said. "These are people who are cut off (from jobs and services they need to start over) not because they committed a violent crime, but because they had a minor drug offense ..."
"This creates a culture of despair that feeds helpless, hopeless behavior. It changes the way young women think about choosing mates ... it changes the way they think about family."
A number of criminologists are beginning to see this too; beginning to see that when so many people in a certain neighborhood are going to prison or jail all the time, that community begins to destabilize. This is especially true in struggling black neighborhoods, where jobs and resources are scarce to begin with, and many young black men begin to give in to their despair.
So instead of being chastened by the prison experience, they become hardened by it. And once they're hardened, bad things happen.
"There are young black men who don't believe they're going to live past 18," Stevenson said. "They don't fear prison or jail, nor do they believe they can avoid it."
I've seen that kind of hopelessness, too. It's the kind that is probably driving Jacksonville's chart-topping murder rates -- an epidemic that is claiming a disproportionate number of black lives.
That's why I believe that any attempt to deal with the problem -- Jacksonville Community Council Inc. is studying it now -- ought to examine the impact that incarceration has already had on the black neighborhoods where many of the killings have been concentrated.
If large numbers of people are in and out of the criminal justice system in those areas, yet the murder and violence rate is still high, that might mean the threat of imprisonment has lost its edge; that it's time to look for another way.
It should also look at substantive ways to involve young black males in solving the problem.
It can be done. Stevenson told me that in the early 1990s, a coalition of law enforcement officials and community activists in Boston began to ask gang members and others to help them stem the murder rate there.
While asking the perpetrators of the problem to help may seem strange, it worked because the officials began to understand that what was behind much of the violence was a quest for respect.
During that time, Stevenson said, the homicide rate dropped dramatically -- and the gang members were praised for being the solution.
That is an idea that Jacksonville can try.
In any case, what Stevenson said was sobering and instructive. The easy solution -- locking people up and throwing away the key -- has given way to more complex problems.
People in Jacksonville's poorest, blackest communities -- the highest concentrations of murders in Jacksonville take place in neighborhoods where people make less than $20,000 a year -- are already isolated from legitimate opportunities.
But when they are further stigmatized by making the mistake of committing a minor crime, that situation does little to put social capital back into their communities. Some start not to care about their own lives -- much less anyone else's.
That's why it's important that as Jacksonville tries to rreduce its homicide rate, it doesn't pursue a solution that has deepened the problem. But most of all, black people must begin to grasp the toll that mass incarceration is taking on their neighborhoods -- and help reverse that trend.
Or else.
"We've got to start talking about mass incarceration in the same way we talked about Jim Crow and segregation," Stevenson said.
posted by Jason Miller
_______________________
America Behind Bars
The Seattle Times
by Neal Peirce
Has America become a "prison nation"?
Check our culture.
We wink an eye as our youth are exposed to such films or television offerings as "Slam," "Prison Break," HBO's "Oz" and "Get Rich or Die Tryin'." Or such highly violent video games as "Grand Theft Auto." The constant message: If you're angry, strike out violently; if you're crossed, seek revenge.
Prison images are spreading across society. Example: baggy trousers. The "fashion" started in prisons, where belts are forbidden because they can be used as weapons. Result? Trousers fall. Now the dropping-pants, underwear-exposing trend can be seen on almost any street, in almost any mall.
Go to schools and ask youngsters for a show of hands whether they have a father, mother, brother, uncle or anyone close to them in prison. In many cities and suburbs, most kids' hands go up. And small wonder: More than 2 million Americans are behind bars, the most — in absolute numbers, and share of the population — of any nation on Earth.
Or ask school kids: "What's a sentence?" Ideally, they'd reply it's a group of words with a subject and predicate. But no, in many schools the reply is quite different: "Five to 10 years."
Our dilemma: America seems to have concluded that the way to deal with misconduct and violent expression of anger is imprisonment. Our drive to be "tough on crime" is exposing vast numbers of people to prison life, triggering more crime in the process. Psychologists understand the dynamics of aggression and which behaviors will lower it. But we focus on the tail end — incarceration — rather than the logical front end — prevention.
So, who's saying all this? It's not who you'd expect. It's a corrections professional, Devon Brown, who has been warden of several maximum-security prisons, served as New Jersey's corrections commissioner and now holds the same post in Washington, D.C.
The single experience that most shocked him, says Brown, was directing Maryland's prisoner intake facility in Baltimore. "I noticed many of the men were reacting with laughter and joy. They were being reunited with fathers, uncles, friends. They considered it a great homecoming. I found that despicable."
So Brown, a lawyer with master's degrees in psychology and public administration, has chosen to speak out on — and implement — critical reforms. He'd like to staunch the flow of youth into prisons by having every school start a curriculum based on building positive pro-social behavior, especially for low-income young black males whose "cool" attitudes and frequent disdain for learning have become major problems for themselves, and society.
But even in prison, Brown believes inmates' native intelligence can be tapped for much better results. In New Jersey, he got high numbers of prisoners into GED courses and saw 81 percent — compared with 63 percent of the general public — passing on the first test.
Disgusted with the TV fare inmates normally watch, Brown turned off the soaps and commercial drivel and substituted educationally enriching videos at all hours. But he first wrote all the inmates, explaining that the switch was for their growth, so that they'd be able to carry on intelligent discussions on release, and more likely be able, if asked, to help their children on their homework.
Then, beginning with the maximum-security New Jersey State Prison at Trenton, Brown started chess clubs. Why? Inmates tend to be impulsive, neither looking backward nor to the future before they act. "But chess teaches them — look backward, and forward, with care. If you make a move that loses a bishop, don't repeat it!" Also, because inmates often devalue women, Brown had them instructed to note all your game pieces represent males — save one, the queen, and she's the most powerful on the board. "Moral: Respect your lady."
Brown's chess team ended up winning a competition (captured by Sports Illustrated and ESPN) against a team of nationally ranked chess masters from Princeton University.
In another initiative, he introduced the popular Stock Market Game at the legendarily tough Rahway State Prison. The Rahway team ended up defeating a team of Paine Webber interns — "and we beat 'em bad," boasts Brown.
Are we witnessing America's first crime-prevention program originating inside the prison world? It seems so. But it's not likely to replicate, or achieve lasting results, unless Brown's central theme prevails: think culture first.
Neal Peirce's column appears alternate Mondays on editorial pages of The Times.
Go to Original Article >>>
The views expressed herein are the writers' own and do not necessarily reflect those of Looking Glass News. Click the disclaimer link below for more information.
Email: editor@lookingglassnews.org.