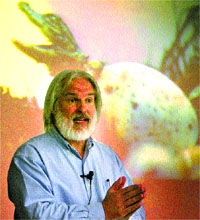 Zoologist Louis Guillette was drawn into London's pesticide-ban debate during a lecture stop at the University of Western Ontario yesterday. (Ken Wightman, LFP)
A renowned U.S. scientist supports a ban on the chemicals for cosmetic purposes.
A renowned U.S. scientist who has documented fertility and sex changes -- including decreasing penis size -- due to environmental contamination says he wouldn't apply pesticides on his own lawn.
Delivering a special series of lectures this week at the University of Western Ontario, Louis Guillette has been drawn into London's lawn-care debate during question periods and talk-show interviews.
"The use of these compounds just for cosmetic reasons, just because you don't want to make dandelion wine from your yard or whatever, I think is inappropriate," Guillette, who is associate dean for research at the University of Florida, said in a lecture yesterday at UWO's Schulich School of Medicine and Dentistry.
Based on his own scientific investigations, Guillette said there's enough evidence pesticides put children, wildlife and the ecosystem at risk.
"Just because you can go buy them at the local stores doesn't meant that is appropriate use," he said.
A zoologist, Guillette has spent the last decade studying the influence of environmental contaminants on fetal development and reproductive systems of wildlife and humans, including the differences between alligators living in contaminated Florida lakes and those in cleaner ones.
He found abnormalities in sex organs, dramatic differences in egg-hatching rates and hormone levels.
Penis size of the animals from the polluted lake was smaller than animals from the less-polluted lake.
"This is important because it is not just an alligator story. It is not just a lake story. We know there has been a dramatic increase in penile and genital abnormalities in baby boys," Guillette said.
A followup study by another scientist involving healthy couples with 5,000 healthy babies also found reduced penis size with higher contamination levels.
"Are (their penises) so small they are actually having problems? We don't know. These are baby boys," he said.
But rodent studies have indicated more difficulty with fertility and other aspects later on, he said.
The researchers also found the alligators from contaminated water had abnormal ovaries. Some of the abnormalities were traced to chemical compounds with estrogen, a sex hormone. Estrogenic-type compounds are found in some pesticides, including atrazine, mostly widely used in North America for weed control.
Guillette said he doesn't support a total pesticide ban, saying their use is proper for public health and probably in agriculture. But when people can reduce their exposure they should, he said.
Go to Original Article >>>
The views expressed herein are the writers' own and do not necessarily reflect those of Looking Glass News. Click the disclaimer link below for more information.
Email: editor@lookingglassnews.org.