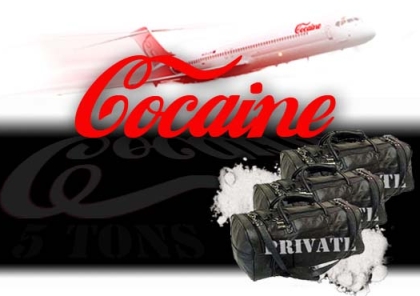 One of the two owners of the DC9 (tail number N900SA) busted at an airport in Ciudad del Carmen in the state of Campeche, Mexico last week freighted 5.5 tons of cocaine had been appointed in 2003 to the Business Advisory Council of the National Republican Congressional Committee by then-Congressional Majority Leader Tom Delay, The MadCowMorningNews can exclusively report.
The plane's registered owner, "Royal Sons LLC," a Florida air charter company, was at one time housed in a hanger at the Venice Fl. Airport owned by infamous flight school Huffman Aviation.
Also of major significance is the fact that photos of the DC9, seized last Monday in Ciudad del Carmen, reveal that the plane is painted with the distinctive blue and white color color scheme of official U.S. Government planes.
Moreover, to reinforce the effect, or subterfuge, the plane carries an official-looking Seal painted on its side, which reads: SKY WAY AIRCRAFT, PROTECTION OF AMERICA'S SKIES, around an image of a federal eagle clutching the familiar olive branch in its talons. Many have been fooled into concluding that the plane belongs to the U.S. Transportation Security Administration.
This has obvious and highly serious national security implications, which go well beyond the obvious glee involved in playing political "gotcha" with people caught face-down with their noses buried, Tony Montana-style, in over five tons of cocaine.
Who, exactly, are the "Royal Sons?"
The DC9 was purchased several years ago in a partnership between "Royal Sons Motor Yacht Sales, Inc. DBA Royal Sons" and a company owned by Brent Kovar called Skyway Communications Holding Corp, which jointly signed a loan with United Bank and Trust Company in St. Petersburg, FL. for $1.5 million.
Skyway Communication's principal Kovar must have been looking well forward to justify the purchase; the company was then in the middle of losing $40 million in less than three years, between 2002 and its last annual report before bankruptcy in January 2005.
Not that Tom DeLay seemed to mind. He and buddy Brent Kovar's press release deserves special mention.
"Congressman Tom Delay, Majority Leader, has appointed Brent C Kovar to serve as the Honorary Chairman, Business Advisory Council," read the headline of an August 7, 2003 release from PrimeZone Media newswire and press release service.
The Business Advisory Council, explained the release, was part of the National Republican Congressional Committee, "dedicated to making sure that small business has a voice in Washington."
Kovar was appointed "in recognition of his valuable contributions and dedication to the Republican Party," and was "expected to play a crucial role in the party's efforts to involve top businesspeople in the process of government reform both at the state and federal levels."
While the release left the specific nature of Kovar's "crucial role in the GOP' efforts" a bit vague, a look at the other owner of the DC9, dubbed "Cocaine One," offers clues which help fill in the blanks.
"Protection of America's Skies?"
But the "Royal Sons" connection may prove even more enlightening...
While Huffman Aviation's familiar blue-awning flight school was at 400 E Airport, its hangar (see picture below) was several hundred feet down the runway, at 224 E Airport Ave. Royal Sons used this same address, apparently during the same time frame that the flight school was serving as the home-away-from-home of terrorist ringleader Mohamed Atta.
A close look at Royal Sons reveals evidence indicating that the firm is part of a cluster of related air charter firms being used as dummy front companies to provide "cover" for CIA flights.
The companies involved include Royal Sons, Express One International, Genesis Aviation and United Flite Inc.
All four companies appear to be engaged in an inter-locking and time-honored Agency scheme going back 50 years: using frequent cosmetic transfers of aircraft title to make positively identifying the ownership of any one plane at any given time as difficult as finding the pea under the shell in a game of three-card Monte.
While none of the firms has been identified as a CIA aviation contractor, they have also not previously been the focus of the sort of unwelcome attention that getting caught with five tons of cocaine provides.
Tell us again...What happened to the pilot?
When the story first broke, observers immediately noted that it was embarrassingly thin in certain crucial details. For example, initial reports stated that the Mexican Army had been waiting for the plane when it landed.
Yet when Mexican Gen. Carlos Gaytan held a news conference, he told reporters that his soldiers had unfortunately been unable to apprehend the plane's pilot.
Somehow, Houdini-like, the slippery fellow had gotten away.
Amazingly, the "disappeared" DC9 pilot who slithered through a crack in the line of Mexican troops ringing the airport had also had the presence of mind to take his name with him when he fled. Almost ten days later, the pilot remains unidentified.
To compensate, General Gaytan quickly pointed out that his men had, at least, managed to arrest the plane's co-pilot. But suspicion had already been aroused. It seemed almost exactly like what had happened when terror flight school owner Wally Hilliard's Lear jet got busted with 43 pounds of heroin aboard. Somehow, his pilot got off scot-free, too.
"Being connected means never having to say you're sorry."
Could the reason involve some official sanction enjoyed by the drug trafficking operation involved? This explanation would seem to be ruled out, wouldn't it, if the traffickers get caught?
Maybe not...There's another major "anomaly" in the story, which points towards a simpler explanation, which credits the sharpness and dedication to their jobs of low-level agents or grunts, foot soldiers, literally, in the drug war. The record is replete with examples of how these people regularly stumble onto situations they were never meant to see...like an illicit but 'protected' operation.
The result is that, sometimes, cases get made, and people get arrested, by mistake...
While initial news accounts indicated the bust was the result of a tip to Mexican authorities from U.S. officials, later reports from reporters on the scene tell a far different tale, one indicating that the chain of events was triggered, not by high-level contacts between two vigilant drug-fighting governments, but by soldiers patrolling the airport.
Only then did local army officials deploy troops to the airport.
Here's what the soldiers saw: two Mexican pilots arriving in a small Falcon business jet and spending several days conspicuously slouching around the airport. While they probably didn't say what for, they didn't have to... Because they did offer to pay for the DC-9 to make an emergency landing, at a time when the airport was officially closed.
Du-uh. John Gotti would had called the two pilots "fucking dunskies." Nobody knows what their bosses are calling them now, but the men would be well-advised to consider how it was that they got...literally...caught holding... while the gringo pilot got away.
Carrying water for somebody, sure. But who?
Both of the detained Mexican pilots, published reports at the end of last week revealed, were employees of the Mexican government's Federal Water Commission. But they may not be the only pilots drawing government paychecks who participated in the massive drug move.

The pilot of the DC9 may also be cashing checks which--while not stamped with Uncle Sam's name on the front--are still ultimately being drawn from U.S. government funds.
Another anomaly reinforced this suspicion. While the Venice Airport is a tiny facility with barely a dozen businesses strewn along the runway, no one we spoke to at Royal Son's former Venice Airport address could recall the company having been there. Nor did the names of the firms two principals, Frederic Geffon and Ron Gregory, ring any bells.
"Royal Sons" would not be the first phantom firm discovered hiding inside Huffman Aviation. Britannia Aviation, once "housed" inside the flight school, was later revealed to be all-but non-existent during a major brouhaha in Jerry Falwell's Lynchburg Virginia after being awarded, for no apparent reason aviation observers were able to fathom, a fat government aviation contract for which a local Lynchburg firm was clearly much better qualified.
"Don't touch my bags if you please, Mr. Custom's Man"
Of course, as the MadCowMorningNews has been pointing out to anyone who'll listen, Huffman Aviation's owner Wally Hilliard had his own Lear jet busted by DEA agents, during the same month Mohamed Atta arrived at his flight school, unhappy to discover 43 pounds of heroin aboard.
The Orlando Sentinel called it "the biggest heroin bust in Central Florida history."
Two surreal details of the 5-ton cocaine bust deserve mention...
Being connected to two such world-class drug busts in a matter of only a few years does not by itself indicate that the sleepy retirement community of blue-haired widows is about to replace Palermo or Caracas as the place to see and be seen in the international narcotics trade, it seems fair to say the tiny rural Venice Airport is clearly the "Little Engine That Could."
But the most surreal detail this side of the Salvador Dali museum is that the cocaine was packed into 128 identical black suitcases...
Clearly every baggage handler's worst nightmare.
But the surreal part is this: stenciled on the side of each of the 128 pieces of identical black luggage is the word "Private."
We're at a loss to understand what this means. A libertarian battle cry? Or an admonition to nosy Customs agents:
"Gentlemen do not search each other's luggage."
Stay tuned.
Go to Original Article >>>
The views expressed herein are the writers' own and do not necessarily reflect those of Looking Glass News. Click the disclaimer link below for more information.
Email: editor@lookingglassnews.org.