The Bush Crime Family's close business dealings with the royal houses of Kuwait (the Sabah family) and Dubai (the Maktoum family) either borders on or is treason according to information received from U.S. military and Persian Gulf sources by WMR.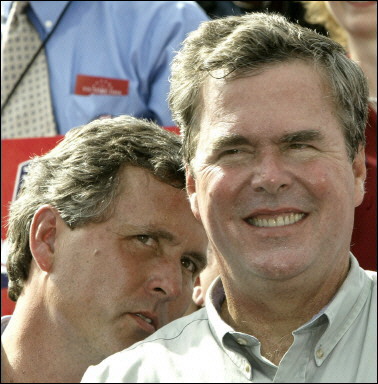 The Bush Crime Family: Texas Yankees in the Gulf Emirs' courts: Dubya, Poppy, Neil, Marvin, and Jeb
The Sabah family and their business cohorts are reportedly skimming hundreds of millions of dollars from the shipping of military materiel through Kuwait to U.S. forces in Iraq. Moreover, much of this money is being used to fund the Sunni insurgency in Iraq that is directed against U.S. troops. In 1993, former President George H. W. Bush was awarded an honorary doctorate by Kuwait University and Kuwait's highest honor, the Order of Mubarak the Great. Bush was accompanied on a Kuwait Airways flight by his sons Neil and Marvin and former Secretary of State James Baker III, former chief of staff John Sununu, and Joint Chiefs Operations Director General Thomas Kelly. After the trip Neil landed lucrative contracts with the Kuwaiti Ministry of Electricity and Water. Marvin secured defense contracts for his clients. Baker nailed down deals for Enron. To ratchet things up with Saddam, Kuwait staged a round up of some Iraqi whiskey smugglers said to be planning the assassination of the elder Bush during his visit to Kuwait. President Clinton launched a cruise missile attack on Iraq in retaliation for the phony assassination attempt.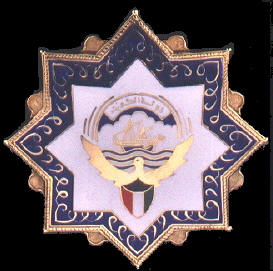 How many people died so Poppy Bush could be awarded Kuwait's Order of Mubarak the Great?
Marvin served on the board of Securacom (renamed Stratesec), which had contracts to provide security for Dulles Airport and the World Trade Center on September 11, 2001. Securacom's backers included a number of Kuwaitis through a company called KuwAm Corp (Kuwaiti-American Corp.). KuwAm also financially backed Aviation General, formerly Commander Aircraft, which brokered the sale of airplanes to the National Civil Aviation Training Organization (NCATO), located in Giza, Egypt, the hometown of lead hijacker Mohammed Atta and the only civilian pilot training school in Egypt. NCATO has a training agreement with Embry-Riddle University in Daytona Beach, Florida, the flight school that was investigated by the FBI for possibly training at least one of the 911 hijackers.
Neil also developed close connections to the Maktoum family of Dubai, the same family that has interests in the state-owned firm, Dubai Ports World, that is poised to take over the operations of six U.S. ports (New York, New Jersey, Philadelphia-Camden, Miami, New Orleans, and Baltimore) after its purchase of the British P&O Company.
Shaikh Hamdan bin Rashid al Maktoum, the Finance Minister of Dubai and someone who certainly had his pulse on the millions of dollars sent through the emirate to the Taliban, Al Qaeda, and Pakistani madrassas and assorted Islamic "charities."
UAE banking insiders have revealed that accounts used to fund the Taliban and Al Qaeda involved members of the Dubai royal family. Banking insiders in Dubai report that in March 2002, U.S. Secretary of Treasury Paul O'Neill visited Dubai and asked for documents on a $109,500 money transfer from Dubai to a joint account held by hijackers Mohammed Atta and Marwan al Shehhi at Sun Trust Bank in Florida. O'Neill also asked UAE authorities to close down accounts used by Al Qaeda and affiliated partners like Victor Bout. The UAE complained about O'Neill's demands to the Bush administration. O'Neill's pressure on the UAE and Saudis contributed to Bush firing him as Treasury Secretary in December 2002.
Go to Original Article >>>
The views expressed herein are the writers' own and do not necessarily reflect those of Looking Glass News. Click the disclaimer link below for more information.
Email: editor@lookingglassnews.org.