That's the headline from MSNBC breaking news in my inbox.
Here's CBS:
U.N. peacekeepers opened fire Monday on protesters, killing at least one and wounding four, witnesses said. Flaming roadblocks paralyzed Port-au-Prince, and protesters stormed into a hotel where election officials have been announcing results of presidential elections.

Associated Press journalists saw the body of a man in the street in the Tabarre neighborhood, a T-shirt bearing the image of popular candidate Rene Preval soaked in blood. Witnesses said Jordanian U.N. peacekeepers opened fire on them, killing two and wounding four. The body of the second victim was not at the scene.

"We were peacefully protesting when the U.N. started shooting. There were a lot of shots. Everybody ran," said Walrick Michel, 22, one of the pro-Preval protesters. In a phone interview, U.N. spokesman David Wimhurst denied that peacekeepers opened fire.
So there you go. Vote the wrong way, we fix it. Protest, and we shoot you down in the streets. If you'd only shut your mouths, the wondrous glory of a Happy Meal could be yours. Have a nice day.
_________________________
Haiti election narrative: a case of fast editing
Here's the narrative in my inbox:
11 February - The UN secretary general, Kofi Annan, hailed the election as a "significant step forward". The US secretary of state, Condoleezza Rice, called on all Haitian citizens to recognise the result.

Charles Arthur, director of the Haiti Support Group, said: "Despite the poor organisation of the voting process, it does seem as though most people were
eventually able to cast their votes."

...

12 February - Thousands of chanting supporters of presidential candidate René Préval marched from a seaside slum past the national palace in a victory celebration Saturday as electoral officials continued counting ballots that have given Préval a wide lead. The former president had 50.3 percent of 1.3 million valid votes counted so far, with the other candidates far behind, Haiti's election council said. The winning candidate needs 50 percent plus one vote to avoid a March runoff with the second-place finisher. Nearly 1.8 million votes were cast, U.N. officials said.

...

12 February - In Cité Soleil, Haiti's largest slum and an Aristide stronghold, demonstrators ran through the streets past shanties and open sewers, waving tree branches and shouting, "Préval is our president!" They demanded a speedier vote count. Demonstrators complained about Préval's shrinking lead. He held 61 percent after the first results were released on Thursday and seemed headed toward a first-round victory. But his total dropped on Friday to 50.3 percent and to less than half on Saturday, leading some to believe elections officials were trying to fix the vote. About 7.6 percent of the ballots counted so far were rejected. In some places, the number was much higher. In the southern Nippes department, for example, 14.1 percent of ballots were spoiled, and in the Centre department, 12.9 percent. "It is suspect," said Patrick Fequière, an electoral council member who often finds himself at odds with other members. "It should be investigated."

...

12 February - According to the partial results published by the Provisional Electoral Council, Préval has obtained 49.10% of 75.81% of the valid votes cast and so far counted, and therefore does not at the moment have enough votes to be elected on the first round. His nearest challengers at present are Leslie Manigat of the Rassemblement des Démocrates Nationaux Progressistes (RDNP), who has 11.72%, and the independent candidate, Charles Baker, with 8.02%. (AlterPresse)

...

13 February - In results that critics slammed as fraudulent, René Préval, a former president and champion of the poor who is the front-runner in key presidential elections here, appeared last night to have lost the majority he needs to avoid a runoff with his closest rival. Thousands of enraged, slum-dwelling Préval supporters took to the streets of this capital city to blow horns and bang drums in protest as they shouted, "Préval on the first round!" Two members of the provisional electoral council overseeing the count from Tuesday's vote said they believed the results were being manipulated.
From Le Colonel Chabert:
On Thursday night, when it was clear that Rene Preval was getting something over 60% of the votes in the UN organised Haitian election, one of his opponents, the man coming second with about 12% of the votes was a former stand-in president, Leslie Manigat.

Manigat, recognising reality, said that the trend suggested that Preval had swept the board and that there might be no need for a runoff.

The candidate running third, a millionaire sweatshop owner named Charles Henri Baker, had a different opinion. Mr Baker, with about 6% of the vote,one tenth of Preval's and half as many as Manigat's, was promising to launch an election petition, charging fraud, hoping to overturn the results.
From the Associated Press:
"According to me, there's a certain level of manipulation," Pierre Richard Duchemin, an electoral council member, told The Associated Press, adding that "there is an effort to stop people from asking questions" about the counting process. Duchemin said Sunday he needed access to tallies of vote counts in hopes of learning who was behind the alleged manipulation. He called for an investigation.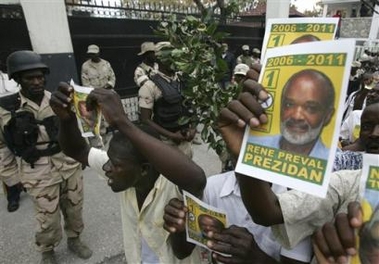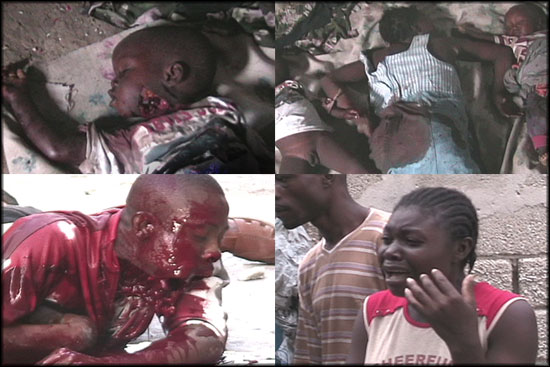 Two years of terror couldn't make them vote how they were told to. What more will it take?
Go to Original Article >>>
The views expressed herein are the writers' own and do not necessarily reflect those of Looking Glass News. Click the disclaimer link below for more information.
Email: editor@lookingglassnews.org.