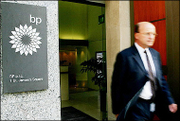 British Petroleum at St. James Square in London. British energy giant BP unveiled a near 31-percent rise in annual net profit owing to rocketing oil prices but investors focused more on fourth-quarter earnings that undershot analysts' forecasts.(AFP/File/Jim Watson)
British energy giant BP unveiled a near 31-percent rise in annual net profit owing to rocketing oil prices but investors focused more on fourth-quarter earnings that undershot analysts' forecasts.
BP posted a net profit of 22.34 billion dollars (18.64 billion euros) in 2005.
The company promised to return between 50 and 65 billion dollars to shareholders over the next two years, depending on oil prices.
But the increase in net profit during the three months to December 31 came in below forecasts because of accounting charges, the impact of hurricane damage in the United States and a fire at the Texas City refinery.
The company's share price fell 3.23 percent to 644 pence in late afternoon trading, while London's FTSE 100 index of leading shares dipped 0.40 percent to 5,749.40 points.
Group chief executive John Browne, speaking after the earnings release, denied press reports that BP might buy Spanish oil company Repsol YPF.
BP is the latest major producer after Royal Dutch Shell and ExxonMobil to announce record high annual profits in the wake of surging oil prices. Prices hit a historic high of 70.85 dollars per barrel in August 2005 after Hurricane Katrina devastated US Gulf Coast energy installations.
Investec analyst Bruce Evers said the fourth-quarter results were "a little disappointing" and "quite a bit below" consensus forecasts.
"BP has been badly affected by the hurricanes," he noted on Tuesday.
Fourth-quarter net profit rose by 22.4 percent to 3.685 billion dollars from the same period in 2004.
Excluding the value of its crude oil inventories and non-operating charges, fourth-quarter net profit rose to 4.895 billion dollars.
But that undershot market forecasts of 5.6 billion.
Last year's Atlantic hurricane season caused extensive damage to BP's new one-billion-dollar Thunder Horse platform, delaying the start of production until the second half of 2006 -- at least six months behind schedule.
The storms also damaged BP's onshore Texas City refinery, which had already been damaged in a fatal explosion in March last year. The Texas facility is expected to resume production in the first quarter of 2006.
The result for the whole of 2005 was "a record" and "reflects the quality of our asset base and operations", Browne said. Nonetheless, 2005 net profit was below Shell's latest annual net profit of 22.94 billion dollars.
BP's full-year result was hit by a loss of 1.6 billion US dollars caused by the hurricanes, which led to a dip in fourth-quarter production. The loss was 950 million dollars over the fourth quarter.
Group revenue stood at 255.16 billion dollars in 2005, while full-year production increased to 4.014 million barrels of oil equivalent per day (boepd) from 3.997 million the previous year.
BP remained upbeat, saying it hoped to raise production to 4.1-4.2 million boepd in 2006 and by around 4.0 percent annually until 2010.
Meanwhile, the group said it had replaced its annual production for the 13th consecutive year.
The group's 2005 reserve replacement ratio -- the rate at which production is replaced by new oil discoveries -- stood at 100 percent according to British standards and 95 percent under the stricter US Securities and Exchange Commission guidelines.
Speaking at a press conference late on Tuesday, Browne told reporters BP would match rising costs with efforts to restructure the business and sell assets that did not fit into its plans.
It recently sold its petrochemical business Innovene to Britain-based chemicals group Ineos for 9.0 billion dollars.
"If (things) are getting bad, we may have to alter some things... even radically," he said.
Last October, BP cut 2,500 jobs at its European refining and marketing business as market conditions started to get tough. Affected staff accounted for almost 9.0 percent of the unit's 28,500-strong workforce.
Go to Original Article >>>
The views expressed herein are the writers' own and do not necessarily reflect those of Looking Glass News. Click the disclaimer link below for more information.
Email: editor@lookingglassnews.org.