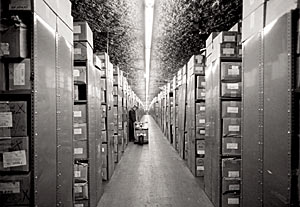 The Carlyle Group has its hands on millions of sensitive files on American citizens stored in limestone mine in Pennsylvania
The problems with the 1997 privatization of the Office of Federal Investigations (OFI), which ultimately became U.S. Investigations Services (USIS), now owned by The Carlyle Group, were known to members of Congress, according to a former OFI official. A number of employees of OFI, which was part of the Office of Personnel Management (OPM) before privatization, refused to accept the terms of the Employee Stock Ownership Plan (ESOP). The late Democratic Senator Paul Simon of Illinois was particularly opposed to the privatization of OFI.
After OFI became USIS, the timeliness and quality of the security background checks conducted on Federal employees quickly deteriorated according to former OFI employees. They saw USIS being turned into a cash laundering operation whereby a few officials at the top became instant millionaires. Insiders also report that USIS "branched" into other operations never before conducted by OFI/OPM. These other operations were the focus of Col. Ted Westhusing's investigation when he was "suicided" in Baghdad. It is also noteworthy that USIS assumed control of a converted limestone mine in Boyers, Pennsylvania. The mine, built during the Cold War to safeguard files in the event of a nuclear conflict, contains millions of government files, including those held by the federal Employee Service and Records Center. That means that The Carlyle Group now has access to sensitive personnel files on millions of current and past government employees as well as contractors who have applied for security clearances.
Go to Original Article >>>
The views expressed herein are the writers' own and do not necessarily reflect those of Looking Glass News. Click the disclaimer link below for more information.
Email: editor@lookingglassnews.org.