The Bush administration has proposed providing Israel with 100 "bunker-buster" bombs capable of destroying underground targets, a move seen as sending a message to Iran to halt its nuclear program.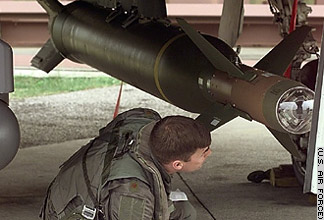 GBU-28 Penetrator

Type: 5,000-pound precision bomb
Guidance: GBU-28 is laser-guided;
Launch: GBU-28, shown above, is launched from fighter aircraft like F-15E Strike Eagle;
Use: Bomb has a hardened warhead designed to penetrate concrete objects like underground bunkers; developed during the Persian Gulf war as a "bunker-buster"


The Pentagon on Tuesday notified Congress of the possible sale of 5,000lb GBU-28 bombs, developed during the 1991 Gulf war to destroy Saddam Hussein's hardened command centers. Congress has 30 days to object.

Any deal would be the first sale of the Lockheed Martin-built munition to a foreign country.

In January, Dick Cheney, US vice-president, suggested that Israel might take military action if the US and European Union failed to persuade Iran to give up its nuclear ambitions.

Ariel Sharon, Israeli prime minister, this month said Israel had no intention of attacking Iran.

However, Iran will not welcome any sale, which would come as Tehran negotiates with France, Germany and the UK over halting its nuclear program. Iran says the program is for peaceful purposes.

"It is certainly going to catch the attention of the Iranians who are concerned that bombs might be used against the kind of facilities that they have been building," said Patrick Clawson, deputy director of the Washington Institute of Near East Studies.

Mr Clawson said the bunker buster could be used against other targets, including those in Syria.

Some experts doubt that Israel would attack Iran's nuclear facilities, given their number and the fact that not all locations are known. Others have argued that striking some facilities could deal a serious setback to any Iranian attempts to develop a nuclear bomb.

David Siegel, spokesman for the Israeli embassy in Washington, said the GBU-28 was "one component in a basket of measures Israel is acquiring".

© Copyright The Financial Times Ltd 2005



Go to Original Article >>>



The views expressed herein are the writers' own and do not necessarily reflect those of Looking Glass News. Click the disclaimer link below for more information.
Email: editor@lookingglassnews.org.