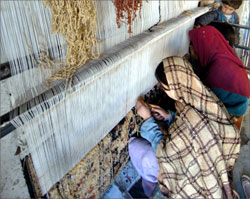 The carpet is one of the war-ravaged country's few exports
The sun rises and sets, weeks and months pass, and 12-year-old Shamta's bony fingers tie knot after knot to countless strings that will eventually mesh into a soft carpet.
She is one of thousands of Afghan girls and women who pass much of their lives working in often-squalid home-based "factories" to create the luxurious carpets that Afghanistan is famous for and adorn well-to-do homes across the world.
The colourful carpets can fetch thousands of dollars, but they bring the women who weave them just enough to get by - along with a lot of hardship.
"I start at dawn and stop by sunset - yes, it is hard work," Shamta says at her loom under a tarpaulin in one of the poorest areas of Kabul. But, she adds: "I am used to it."
The girl, who has never been to school, works with her 16-year-old sister, Fawzia, and two younger brothers on carpets that measure 24 square metres (80 square feet), each one taking about three months to finish.
Exports
Carpet-weaving is an ancient tradition in Afghanistan and the Afghan carpet is one of the war-ravaged country's few exports. For Shamta's family of 12, it is their only income.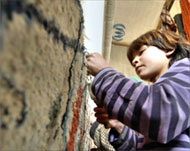 Shamta, 12, works on a carpet loom at her Kabul home-factory
"We earn some 15,000 to 20,000 Afghanis ($300 to $400) a month. It is not enough," says Shamta's father, Waheedu Allah.
Waheedu Allah taught his children the skill that was passed on to him by his own father. The family is employed by a dealer to make the carpets, which can each fetch about $3000.
Shamta admits the job of tying tiny knots has taken a toll on her young body. "My eyes sometimes itch," she says. "My spine also hurts."
Unpaid slaves
The plight of Shamta and thousands of others like her has alarmed rights activist Nilofar Sayar, who this year spent months with about 300 carpet-weavers in northern Afghanistan, the country's main carpet-producing area.
"They are the unpaid slaves of their male relatives," she says in a booklet on her findings released last week.
"It is fortunate that carpets can provide businessmen annual profit in Afghanistan but have you ever thought of who is behind producing these carpets?" Sayar asks.
The women and girls, some as young as 11, spend up to 18 hours at work in "dusty, dark and wet rooms", she says. The conditions often lead to tuberculosis.
The minute and dusty work often causes eye problems among the weavers, while constant contact with dyes and wool can cause skin reactions. Their legs, backs and shoulders are strained by hours of sitting in the same position, often on the floor.
"They suffer from diseases but are still weaving carpets - they're being used as machines by their husbands but no one cares about them," Sayar says.
Opium relief
To cope, and to keep their babies still while they are at work, many women resort to taking opium which is easy to come by in Afghanistan, the world's biggest supplier of the drug.
Sayar's report quotes a carpet weaver saying: "I have to give opium [to my baby]. If I do not, who would weave carpets?"
"If a girl wants to weave carpets and wants not to be tired, she would use a little opium," the woman adds.
The carpet weavers are often prevented from going to school by their families, or are poor students because they have no time to spend on their studies, according to Sayar's research.
Spinsters
And many become spinsters because potential husbands cannot afford the dowry a family demands for one of its key earners.
Sayar, who works for the non-governmental group Rabia Balkhi Management of Skills Support and Improvement group, called on the US-backed government of President Hamid Karzai to end the "misery of Afghan women".
While the conditions back in the capital might be better than in the remote north, the knots and strings that occupy young Shamta are the same.
"Green on green, red on red and purple on purple - you have got to be careful," the girl says.
"Can you count the knots ... they make up a carpet," she says with a little smile.
Go to Original Article >>>
The views expressed herein are the writers' own and do not necessarily reflect those of Looking Glass News. Click the disclaimer link below for more information.
Email: editor@lookingglassnews.org.