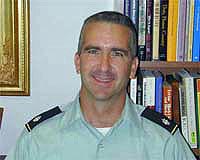 Col. Ted Westhusing, suddenly commits "suicide" in Iraq while investigating private security contractor linked to The Carlyle Group. The road to the House of Bush is littered with the bodies of "suicide," plane crash, and gunshot victims.
Top US Army officer dealing with ethics issues in Iraq found dead last June in trailer near Baghdad Airport -- a victim of one of the Bush administration's infamous "suicides." According to an article in today's Los Angeles Times, Col. Ted Westhusing, a professor at West Point and himself a West Point graduate, and the Army's top expert on military ethics, was found dead in his trailer near Baghdad Airport last June. At the time of his death, Westhusing was investigating a private military contractor (PMC), US Investigations Services (USIS) of Virginia, for fraud and human rights abuses. USIS is financially linked to The Carlyle Group, the same company that is accused by U.S. Special Forces vets who served in Iraq of shipping deadling binary VX nerve gas to Saddam Hussein in 1988 and 1989.
Westhusing's family and friends are rejecting the Army's determination that Westerlung took his own life. The Army based its decision on a "suicide" note said to be written in Westhusing's handwriting. Westhusing served with Special Forces units in Honduras, South Korea, and Italy.
Go to Original Article >>>
The views expressed herein are the writers' own and do not necessarily reflect those of Looking Glass News. Click the disclaimer link below for more information.
Email: editor@lookingglassnews.org.