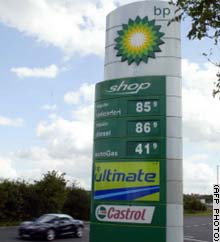 Profit rose on higher oil prices, despite the hurricanes' impact.
Oil giant BP reported a sharp rise in its underlying third-quarter profit on Tuesday, in line with forecasts and due to high oil prices and strong refining margins, but problems with refining and oil production facilities after the U.S. hurricanes concerned investors.
BP said that its $1 billion Thunder Horse oil production platform in the Gulf of Mexico, which was originally scheduled to come on stream later this year, will now not start production until the second half of 2006.
BP's shares were down 0.8 percent at 611.5 pence at 1028 GMT, when the DJ Stoxx European oil and gas sector index was down 0.6 percent.
BP said its replacement cost profit, which strips out gains or losses from changes in the value of fuel inventories, was up 16 percent at $4.41 billion in the third quarter.
Excluding one-off items of $921 million -- mainly due to an accounting write down related to the sale of BP's petrochemical unit Innovene -- underlying profit was $5.33 billion, up from $4.18 billion in the same period last year, adjusted for Europe's new IFRS accounting rules.
This compares with a Reuters poll of nine analysts which gave an average forecast of $5.39 billion, with a range of $5.0 billion to $5.6 billion, for replacement cost profit, excluding exceptionals, the measure preferred by investors and analysts.
The semi-submersible platform Thunder Horse, 25 percent owned by Exxon Mobil, is the largest facility of its kind in the world and was due to produce 250,000 barrels of oil per day at full capacity.
But in July it was discovered to be tilting precariously after Hurricane Dennis hit the Gulf of Mexico. Repairs are expected to cost around $250 million, a BP spokesman said.
Oil price
The main driver of the profit increase was a bumper result at BP's upstream oil and gas production division, with record oil prices during the quarter more than compensating for a fall in production, largely due to U.S. hurricanes.
Similarly, record refining margins more than compensated for storm-related refinery stoppages on the U.S. Gulf coast.
However, BP said production at its Texas City refinery would not now restart until late in the fourth quarter, with initial gasoline production due in December. Dealers had expected the refinery to restart in October or November.
BP's fuel retailing margins also fell "significantly" compared with a year ago because the firm was unable to fully pass on product price rises to customers.
"A common theme throughout the sector has been increased pressure from governments and final customers to keep fuel prices at the pump low," Goldman Sachs said in a research note on Monday.
BP said it would pay a quarterly dividend of 8.925 cents per share, up from 7.1 cents for the same period last year, or in sterling terms 5.061 pence a share, up from 3.91 pence.
Go to Original Article >>>
The views expressed herein are the writers' own and do not necessarily reflect those of Looking Glass News. Click the disclaimer link below for more information.
Email: editor@lookingglassnews.org.