Some of the saddest stories ever told are by people recovering from drug abuse. What is most gut-wrenching about these cautionary tales of pain and woe are what the addicts themselves regret the most from their experience. It's not the years of physical discomfort, the damage done to their bodies or the money wasted that makes them shed the bitterest tears: It's the pain and guilt they feel for the people they've alienated.
Think about it. You can get addicted to Meth and go from this:

to this:

and yet, your biggest regret will be how you hurt the people closest to you.
Just as an addict is blinded to the pain he causes others in his desire for more narcotics, most Americans are blinded to the problems we are giving our children in the quest for unlimited consumption. So great is this addiction, that many citizens ignore what politicians are doing to our open spaces at the behest of oil companies.
A good example of this druggie world-view is represented by Republican congressman Richard Pombo of the 11th district in California. Here is a man so in love with short-term development and cheap oil, that he is willing to sell your heritage to the highest bidder.
Representative Pombo, the chairman of the natural resources committee, drafted legislation that proposes auctioning off 15 national parks to developers, and turning the remaining ones into commercial billboards by selling the naming rights to visitors centers and trails. (I.E.: Re-naming the "Appalachian Trail" to "The Gatorade Trail.")
This proposal was written to threaten lawmakers into supporting oil drilling in the Arctic National Wildlife Refuge. It's as if Pombo is saying "You let us drill for oil in ANWR, or we sell the parks."
Now I ask you; Do you want to deny your children this: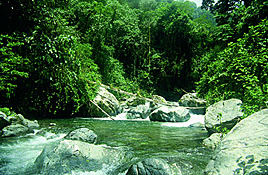 so that you can keep building this?: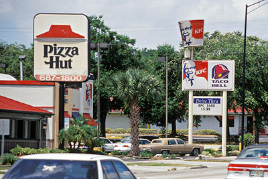 Republicans like Richard Pombo love to talk about their own property-rights, but they ignore the property rights of generations still to come. These parks are not ours to auction off like a collectible figurine on ebay. They belong to our children. Selling the parks, or the naming rights, to corporations is like selling your wedding-ring for a heroin fix.
Pro-corporate conservatives are thinking like drug addicts if they believe that drilling in ANWR will lower fuel prices or save our national parks. The solution is to start weaning ourselves off of our collective addiction to petroleum and support programs that conserve what we have left for our children.
Pombo's threat to sell the national parks in order to make drilling in ANWR politically feasible is a breach of trust between generations. It's like a parent sneaking into his son's wallet for drug money.
As bad as our economy will be when Peak Oil catches up with us, it won't be nearly as painful as explaining to our grandkids why they can't have access to open spaces because you wanted to continue driving an SUV.
Americans must stop hurting the people we love the most before it's too late.
Go to Original Article >>>
The views expressed herein are the writers' own and do not necessarily reflect those of Looking Glass News. Click the disclaimer link below for more information.
Email: editor@lookingglassnews.org.