In the aftermath of Hurricane Katrina, several witnesses have alleged that the Federal Emergency Management Agency (FEMA) turned away volunteers who were ready to help New Orleans residents people trapped in their flooded homes. Other witnesses have said that FEMA turned away offers of aid, prevented water and fuel from reaching people on the ground, and cut emergency communications lines.
The agency has cited security and safety concerns.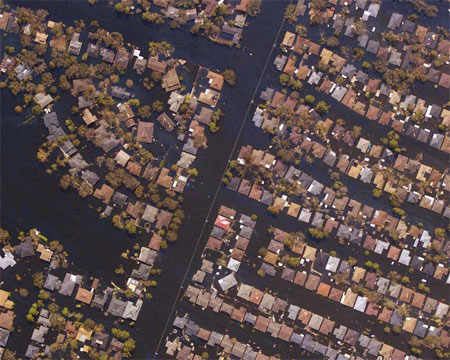 photo: NOAA
On September first, Sheriff's deputies and emergency personnel from Loudon County, Virginia, responded to a request from Jefferson Parrish in Louisiana for aid and set off towards the disaster area on the Gulf Coast. According to the Loudon Times-Mirror, "Sheriff Steve Simpson and his staff spent 12 hours trying to get the Federal Emergency Management Agency and the State of Louisiana Emergency Operations Center to act."
"They didn't, and the 20 deputies and six emergency medical technicians–all volunteers–turned around and came back to Loudoun."
According to a report in the Orlando Sentinel, "up to 500 airboat pilots" volunteered to help rescue flood victims. "We cannot get deployed to save our behinds," Robert Dummett, state coordinator of the Florida Airboat Association, was quoted as saying. He added that the boaters, who spent thousands of dollars stocking their boats to help in the rescue effort, "are physically sick, watching the New Orleans coverage and knowing that the resources to help these poor people is sitting right in our driveways."
However, the report said, "[FEMA] will not authorize the airboaters to enter New Orleans. Without that permission, they would be subject to arrest and would not receive security and support services."
According to a FEMA official, it's a matter of security. "Right now, private citizens trying to go into those impacted areas are more hindrance than help."
For other eyewitness reports, however, explanations are not forthcoming. In a televised interview with CNN's Meet the Press, for example, Jefferson Parish President Aaron Broussard said that "we had 1,000 gallons of diesel fuel on a Coast Guard vessel docked in my parish. The Coast Guard said, 'Come get the fuel right away.' When we got there with our trucks, they got a word. 'FEMA says don't give you the fuel.'"
Broussard also said that FEMA cut "all of our emergency communication lines."
"They cut them without notice. Our sheriff, Harry Lee, goes back in, he reconnects the line. He posts armed guards on our line and says, 'No one is getting near these lines.'"
According to another eyewitness account, a lieutenant with a local Sheriff's office tried to turn away a group of 100 boaters who were attempting to rescue people trapped in buildings.
But the boaters prevailed upon the lieutenant to let them in. "We explained to the guy how this was going to look, and he finally relented."
"FEMA, while certainly able to do more than us, didn't get in the water until around noon," the report continues.
"It turned out to be a good thing we didn't leave, because pretty soon some other FEMA guys were asking us to take their teams out. Which seemed to work out well." The author, who works for Atchafalaya Paddle Trails but signed her or his report "atchafalya", estimated that 1800 people were rescued by the group of boaters that day.
"From what I've seen, almost none of the organizations get in the water before noon. They stop at dusk."
FEMA also attracted fire from Chicago Mayor Richard Daley. The Chicago Sun-Times reported that the city of Chicago is "ready to provide more help than they have requested."
"We are just waiting for their call," Daley was quoted as saying. They mayor said he was "shocked" that no one seemed to want the help.
According to Daley, the city offered "36 members of the firefighters' technical rescue teams, eight emergency medical technicians, search-and-rescue equipment, more than 100 police officers as well as police vehicles and two boats, 29 clinical and 117 non-clinical health workers, a mobile clinic and eight trained personnel, 140 Streets and Sanitation workers and 29 trucks, plus other supplies."
The Sun-Times reported that FEMA only wanted "a single tank truck."
The truck was said to be en route.

Go to Original Article >>>
The views expressed herein are the writers' own and do not necessarily reflect those of Looking Glass News. Click the disclaimer link below for more information.
Email: editor@lookingglassnews.org.