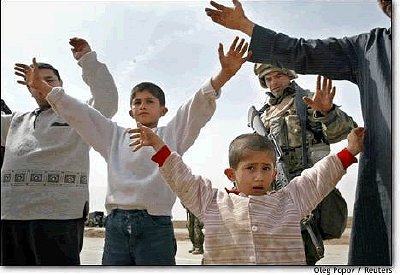 US troops held five children as hostages to demand handover of insurgents near a northern Iraqi town on Tuesday, police said.
"The US forces surrounded the village of Mazraa near Baiji and detained five children under 10 years old, calling on the residents by loudspeakers to hand over several other children showed on TV channels celebrating the killing of US soldiers after roadside blast last week," a police source from Baiji told Xinhua on condition of anonymity.
The US troops threatened to sweep the village by Wednesday morning to detain the other children and suspected insurgents, he said.
The US military, however, said they had no information about the incident.
Last week, four US soldiers were killed and six others wounded in a roadside bomb blast that hit their patrol near the northern oil refinery city of Baiji, some 200 km north of Baghdad.
An Iraqi police source in the nearby Tikrit city said insurgents struck the US patrol with several roadside bombs on a road in al-Mazraa village near Baiji before they attacked them with rocket-propelled grenades and gunfire.
Two US Humvees and a larger armored vehicle were also destroyed in the attack, said the police source.
Go to Original Article >>>
The views expressed herein are the writers' own and do not necessarily reflect those of Looking Glass News. Click the disclaimer link below for more information.
Email: editor@lookingglassnews.org.