Alan Greenspan may have some explaining to do. Because the fingerprints of Greenspan's Federal Reserve are all over financial transactions just ahead of the London bombings.
The Fed has previously supported financial markets by increasing liquidity to boost the stock market -as happened after 9/11.
But an analysis of stock transactions by financial M.B.A. "cunningrealist," shows that even though the attacks in London took place on Thursday, 7th July, the Fed had already hugely increased liquidity 48 hours before that --just in time for that liquidity to filter into the market.
Here is his chart of "securities lending" -one way the Fed creates liquidity. It shows a huge spike on June 30th. This is extraordinary activity.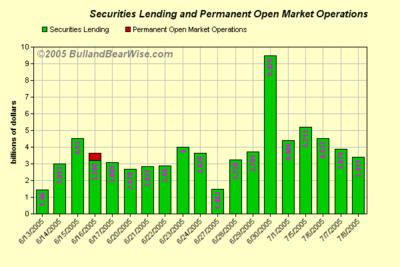 Then the Fed almost doubled "temporary liquidity" to $40 billion, driving this mechanism to a multi-year high on Tuesday, July 5th -and it kept liquidity elevated on Wednesday and the day of the bombings: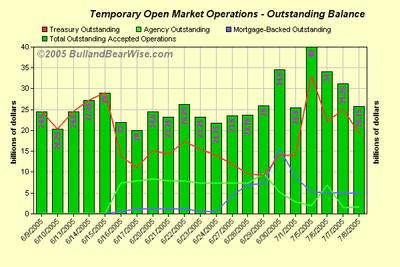 Over recent months, the Fed has pumped extraordinary liquidity into the markets. The Fed doesn't take this sort of action for no reason, particularly when the price of oil is already at an all-time high. But whatever the reason, the result was little global financial downside as a result of the London attacks. It worked.
The stock market saw heavy buying right at the opening bell on Thursday and has shot straight up since then.
Was it just a coincidence that financial markets were pumped up in advance of a major geopolitical event?
Go to Original Article >>>
The views expressed herein are the writers' own and do not necessarily reflect those of Looking Glass News. Click the disclaimer link below for more information.
Email: editor@lookingglassnews.org.