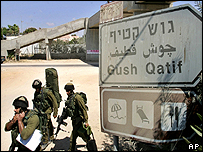 A third of the $2.2bn is expected to pay for relocating troop bases
Israel is asking Washington for $2.2bn in additional aid to help fund its withdrawal from the Gaza Strip and four small West Bank settlements.
Israeli officials say most of the money will be used to pay for developing the Negev and Galilee regions - where the bulk of the settlers will be moved.
One third of the sum, officials say, will go towards the relocation of Israeli military bases.
Washington has already agreed to provide the aid in principle.
But reports say that the amount is much bigger than previous estimates of about $500m.
An Israeli delegation led by the head of the Israeli prime minister's office, Ilan Cohen, is in Washington for meetings with US officials. The US team is expected to be led by Elliot Abrams, the deputy National Security Adviser.
Israel is the world's largest recipient of American aid, receiving an estimated $3bn annually.
Israeli disengagement from Gaza is due to begin in August.
Approximately 8,500 settlers and the soldiers that protect them are due to be withdrawn from Gaza. Israel will maintain control over Gaza's borders, coastline and airspace.
About 630 settlers will also be removed from four small West Bank settlements.
Go to Original Article >>>
The views expressed herein are the writers' own and do not necessarily reflect those of Looking Glass News. Click the disclaimer link below for more information.
Email: editor@lookingglassnews.org.