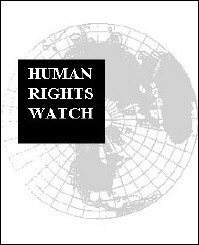 The Human Rights Watch and the American Civil Liberties Union reported that the US government thrusted scores of US-based Muslim men in jail without charge after the September 11, 2001 attacks
The US government thrust scores of US-based Muslim men in jail without charge after the September 11, 2001 attacks, US rights groups said in a report.
The men were held behind a veil of secrecy under a US law permitting the arrest and detention of "material witnesses" thought to have important information about a crime and considered likely to flee, the groups said.
"A handful" were later charged with crimes related to terrorism. About half were never brought to testify, and the US government apologized to 13 of the men for wrongfully detaining them, according to the 101-page report.
"Muslim men were arrested for little more than attending the same mosque as a September 11 hijacker or owning a box-cutter," said Anjana Malhotra, a researcher at Human Rights Watch and the American Civil Liberties Union.
The US Justice Department has declined to reveal how many material witnesses it jailed in its counterterrorism investigations, but Human Rights Watch and the ACLU said they had confirmed 70 such detentions after a year of research.
Sixty-four were of Middle Eastern or South Asian descent, 17 were US citizens, and all but one was Muslim, a statement accompanying the report said.
"The Justice Department relied on false, flimsy or irrelevant evidence to secure arrest warrants for the men," almost all of whom had cooperated with authorities prior to their detention, it said.
The men were typically taken at gunpoint, held in solitary confinement, harassed and in some cases physically abused, the groups said.
Court documents were sealed, court proceedings were held behind closed doors, and the men were largely denied legal protection guaranteed by US law, they charged.
One-third were held at least two months, some were held six months and one man spent more than a year behind bars.
"Many were not informed of the reason for their arrest, allowed immediate access to a lawyer, nor permitted to see the evidence used against them," the statement said.
"On the domestic front, the Justice Department's unlawful use of the material witness statute is perhaps the most extreme but least well-known of the government's post-September 11 abuses," said Lee Gelernt, an ACLU attorney.
"The material witness abuses are a prime example of what happens when there is no public scrutiny of the government's actions," Gelernt said.
One man, an Indian national, was arrested September 12, 2001 in San Antonio, Texas and held in solitary confiment for two months in Brooklyn, New York.
"I didn't sleep for one or two months. The guards would bang on the door all night. They would say, 'This is the guy, the Taliban guy,' or call me 'Khan Taliban,'" Ayub Ali Khan was quoted as saying.
"The guards said so many bad things. They told me: 'You won't ever see your family. You're going to die here. Do you smell the WTC [World Trade Center] smoke? You're gone. How would you like to die? With the electric chair?'"
When taken for interrogations, "My feet were shackled and guards would step on chains. I got a deep cut on my feet," Khan said. "I was stripped too many times to remember and hit on the back. I would be pushed against the wall."
After release, the men were shunned by employers, customers and neighbors, even those who received apologies from the US government and exculpatory write-ups by media in their communities, the groups said.
Go to Original Article >>>
The views expressed herein are the writers' own and do not necessarily reflect those of Looking Glass News. Click the disclaimer link below for more information.
Email: editor@lookingglassnews.org.