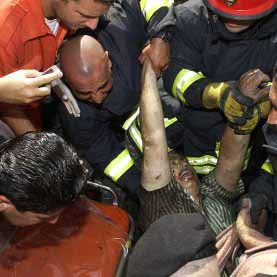 Lebanese Deputy Marwan Fares has stressed that Israel is standing behind the recent assassination of the former Secretary General of the Lebanese Communist Party, George Hawi, pointing out to the similarity with the other previous assassinations committed by the Israeli Mossad in Beirut southern suburb against leaders of Hizbullah.
In a statement to Tishrin newspaper published Thursday, Fares said that "Hawi is one of the Lebanese national symbols who participated in launching the resistance movement against Israel, and thus Israel is the main enemy for him. The Israeli Mossad is acting in Beirut freely."
Fares indicated that the assassination of Hawi was a big loss to the Arab liberation movement and to Syria, because he was an ally to Syria's ruling al-Baath Socialist Party as well as to the late leader Hafez al-Assad and a friend to President Bashar al-Assad.
The deputy added that the continuation of assassinations in Lebanon is targeting the security stability and the political life in the country.
Go to Original Article >>>
The views expressed herein are the writers' own and do not necessarily reflect those of Looking Glass News. Click the disclaimer link below for more information.
Email: editor@lookingglassnews.org.