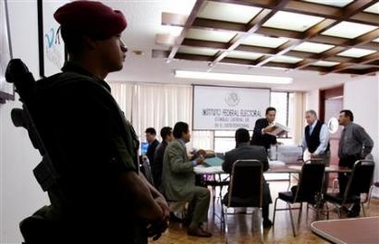 A soldier stands guard as representatives of political parties and electoral workers take part in a recount of ballots from the July 2 general elections at the Federal Electoral Institute (IFE) district-level council in Mexico City, August 9, 2006. (Daniel Aguilar/Reuters)
Hundreds of leftists, claiming fraud in Mexico's presidential election, spread their protests out from the capital on Saturday by occupying major highways to stop the government from collecting toll fees.
It was an escalation of protests that have so far centered on Mexico City, and organizers vowed even more in coming days.
"We have to toughen up the campaign. It is going to be spread across the country because this is a national problem," said Gerardo Fernandez, a spokesman for the left-wing Party of the Democratic Revolution.
Activists swung open toll barriers for a couple of hours on several main highways serving Mexico's three biggest cities -- Mexico City, Guadalajara and Monterrey. Also hit were highways to the Pacific coast beach resort of Acapulco and Nuevo Laredo on the U.S. border.
Leftist candidate Andres Manuel Lopez Obrador narrowly lost the July 2 presidential election but claims he was robbed by fraud and is demanding that all 41 million votes be recounted.
Election officials are this week carrying out a partial recount at just 9 percent of polling stations.
Lopez Obrador says the partial recount shows that more than 100,000 votes were wrongly counted in the initial tally. He says the electoral court has no choice but to annul the results at thousands of polling stations and declare him the winner.
"What happens if the court applies the law and annuls those polling stations with grave irregularities? Well, the result is different," Lopez Obrador told thousands of supporters in Mexico City's vast Zocalo square on Friday night.
Conservative candidate Felipe Calderon won by about 244,000 votes, or 0.58 of a percentage point, and his ruling party says the recounts show only minor changes in the results.
Calderon says they prove the vote was clean and he fully expects the electoral court to confirm him as president-elect.
Lopez Obrador's supporters have crippled central Mexico City for almost two weeks by setting up camps in the Zocalo and on the main boulevard that runs through its business district.
They have resisted pressure from business groups and many residents to dismantle the protest camps, and are planning to hit new targets in their campaign of civil disobedience.
This week, the tactics included blockading the stock exchange, the headquarters of international banks and government offices in Mexico City.
Fearing further unrest, the government has tightened security at the capital's international airport as well as oil refineries and power plants.
Lopez Obrador is a former mayor of Mexico City who has promised to end two decades of free-market reforms and help the poor with welfare programs and infrastructure spending.
He has a long history of leading street protests. In 1994, he staged marches and blockaded oil wells in the oil-rich state of Tabasco after losing a governor's race that was marred by widespread fraud allegations.
The partial vote recount must be completed by Sunday. The electoral court must then decide whether or not to annul some results and order thousands more ballot boxes reopened.
(Additional reporting by Daniel Aguilar)
___________________
Read from Looking Glass News
The scent of popular revolution fills the air in Mexico
Evidence of Election Fraud Grows in México
Lopez Obrador Supporters Occupy Heart of Mexico City
The Associated Press lies again
Democracy, Mexican Style - Part II
Democracy, Mexican Style - Part I
Mexico 2006: Florida all over again?
Now its Mexico's turn to face neo-con inspired mass voter fraud
STEALING IT IN FRONT OF YOUR EYES
Workers' struggles intensify on eve of Mexican elections