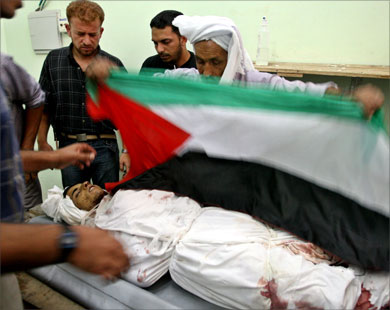 The world stands idle as Israelis test their destructive weapons on Palestinians.
According to a press release issued Tuesday, 11 July, by the Gaza-based Palestinian Health Information Center (PHIC), surgeons have noticed that the majority of wounded civilians admitted to hospitals were exposed to tremendous explosions that burned their limbs and other body organs, causing multiple wounds, lacerated abdomen and internal bleedings.

"When the projectile explodes it morphs into very tiny pieces like sand and enters wounded bodies from multiple inlets and goes out from larger exit causing tissue destruction," one surgeon was quoted as saying.

The Palestinian Ministry of Health appealed to the international community and human rights organizations to send a specialized medical committee to investigate the use by the Israeli army of these weapons.

During the course of the Aqsa Intifada, which started in September 2000, the Israeli occupation army used a variety of internationally prohibited weapons, including shells containing depleted uranium, dart shells, which contain thousands of nail-like darts that penetrate the body, as well as gas agents affecting the nervous system.

The Israeli occupation army has refused to comment on the type of weapons it uses against Palestinians in Gaza.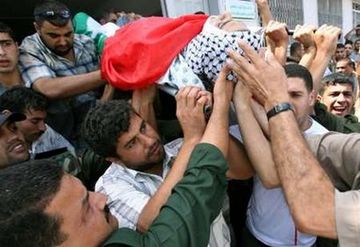 Eternal shame on a world that exalts one group of people above another.
____________________
Enough polite conversation - Israel is a Mafia state
qrswave
The Truth Will Set You Free
What else can you call a nation that kills with imputiny, destroys at its whim, takes as it pleases, and is above the law?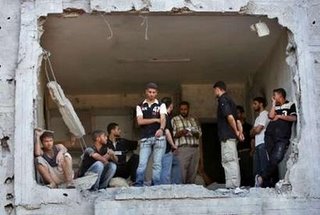 An Israeli airstrike in Gaza City killed a Hamas official, his wife and seven children, according to Hamas and Palestinian medical sources.
* * *
"There are people to the north and south of our country who continue to want to compromise our stability. There are people trying to shake our determination but they will fail and they will pay a heavy price for their acts," he said.
What stability? Israel hasn't been stable since its inception. How can it be with no definitive borders and its perpetual occupation of another people?
And their determination to do what? Wipe out Palestinians?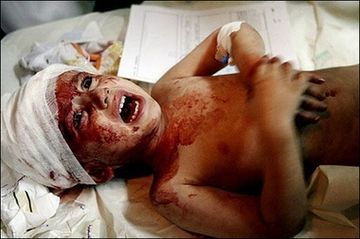 Israelis are not only arrogant - they're delusional if they think that everyone in the world will stand idle as they systematically annihilate an entire population.
Israelis are bound to meet resistance. And the worst is yet to come.
Hizbollah guerrillas captured two Israeli soldiers and killed up to seven Israelis in Lebanese border violence on Wednesday, further inflaming Middle East tensions.

[Olmert] described the Hizbollah attacks as an "act of war" by Lebanon and promised a "very painful and far-reaching" response.

"Israel mobilized a reserve infantry division and Hizbollah declared an all-out military alert."

Two Lebanese civilians were killed in an Israeli air strike on a coastal bridge at Qasmiyeh. Four other bridges in the south were hit and five Lebanese were wounded, security sources said.
Israelis, take heed. Those who do not learn from history are destined to repeat it.
In the end, you will reap what you have sown.
________________
Read from Looking Glass News
Israel Graduates from Killing Gazans to Lebanese
The Corporate Interests Fueling Conflict in Palestine
Gaza and the Treason of the International Community
Israel: Rogue Nation Committing Genocide
"Escalation", "retaliation" and BBC double standards in Gaza
A Glossary of Dispossession: Hiding Behind Words