Israel turned up the pressure on Palestinian militants to release a captive soldier Wednesday, sending its warplanes to bomb a Hamas training camp after knocking out electricity and water supplies for most of the 1.3 million residents of the Gaza Strip.
Not that Israel is doing anything the United States didn't perfect in its bombing of Yugoslavia and Iraq (notably the first Gulf War; by the time of the 2003 invasion there wasn't much left). Attacking civilian targets is, of course, a war crime.
Without exception as far as I've seen, the media reports that the current Israeli attacks are a "rescue attempt." This is nonsense. Their chances of rescuing the captured soldier alive are as close to nil as can be imagined. This assault is, as the actual actions cited above demonstrate, all about collective punishment of the Palestinian people, and has little if anything to do with attempting to save the life of Cpl. Gilad Shalit.
Update: "Collective punishment" may be a bit too abstract. Let's make it concrete. Last month, 3-year-old Mariyah Amin was left paralyzed and on an artificial respirator for life. Without electricity, Mariyah Amin, and many others in similar circumstances, will die. Or, to be more accurate, will have been murdered by the Israelis, as were her brother, mother, and grandmother.
______________________________

Israeli occupation forces enter Gaza
Aljazeera.com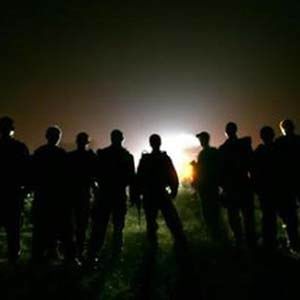 (Reuters Photo) Israeli forces crossed into southern Gaza early Wednesday
Israeli forces, backed by armored vehicles and helicopter gunships, crossed into southern Gaza early Wednesday in what the army said was an operation aimed at releasing a soldier kidnapped by Palestinian resistance fighters, BBC reported.
Reports say Israeli soldiers launched the operation from the Karem Shalom border crossing in southern Gaza and took up positions shortly before 3 a.m. (8 p.m. ET) on farmland outside the disused international airport about one kilometer inside the Gaza border.
It is unclear how many soldiers are participating in the operation, which the military said was aimed at freeing Cpl Gilad Shalit, who was captured Sunday in a raid claimed by three different Palestinian resistance groups – including the armed wing of the ruling party Hamas.
The Israeli army said the operation would remain "limited and surgical".
"The IDF will continue to make every effort to return Cpl. Shalit home quickly and safely," the military said Wednesday in a statement.
"The Palestinian Authority, led by the democratically elected Hamas government, is fully responsible for any attacks emanating from the Gaza Strip, and Israel holds it responsible for the safe and quick return of Cpl. Shalit," it added.
Ground incursion
Air strikes on three bridges and a major power plant in the Gaza Strip preceded the ground incursion.
Witnesses said Israeli warplanes also bombed a Hamas training camp in southern Gaza and knocked out electricity and water supplies for most of the 1.3 million residents of the Gaza Strip.
Palestinian families living in the path of the Israeli incursion are fleeing their homes to seek refuge in the nearby town of Rafah, near the Gaza-Israel-Egypt border.
The Israeli army reported no resistance, but reports say Palestinian resistance fighters are building barricades and preparing hideouts and ambush positions.
Israeli army officials also told The Associated Press on condition anonymity that warplanes flew low over the home of Syrian President Bashar Assad, claiming that he is sheltering Hamas leaders blamed by Israel for the soldier's abduction.
Israeli Prime Minister Ehud Olmert claimed that the first major incursion since the Gaza withdrawal last year wasn't aimed at recapturing the strip. "We have a central goal and that is to bring Gilad home," he said.
Olmert has refused demands by Shalit's captors to free all Palestinian and children held in Israeli jails in exchange for the soldier's release.
Hamas' political leaders have denied any knowledge of Shalit's abduction, but have called for his release.
In another development, Palestinian fighters in the occupied West Bank said they kidnapped a Jewish settler and would kill him if Israeli continued its military operations in Gaza.
"Military madness"
Hamas' spokesman Ghazi Hamad said that the Israeli incursion was unjustified, describing as "military madness".
He added that the crisis could be solved through "contacts with Arab and international parties".
Palestinian President Mahmoud Abbas also denounced the military operations in Gaza as "collective punishment", describing it as a "crime against humanity".
On Tuesday, Hamas and Fatah agreed on a statehood plan outlining a common political platform for negotiations with Israel, but the move appears to have been overtaken by events on the ground.
Under the agreement, Hamas agreed to accept a Palestinian state on the West Bank and in Gaza while maintaining its refusal to recognize Israel's right to exist. It also authorized President Abbas to conduct negotiations with Israel.