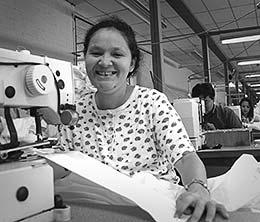 A co-op member of the Just Garments facility in El Salvador, Photo: Michael Hallahan
The Spanish language doesn't have a concise word for "sweatshop." Whenever I explain the word to workers in Central America, they ask me how a sweatshop is different from any other workplace. Nearly every factory violates local and international labor laws.
Wages are often between a half and a third of a living wage, and yet, since workers frequently receive no more than 1% of what we pay in the store, minute increases in price or changes to the supply chain could provide workers a just wage.
Textile companies scour the globe in search of the cheapest production source without committing to factories in any one place, resulting in job instability and frequent factory closures.
In El Salvador in 2002, the Union of Textile Industry Workers demanded contract negotiations with Tainan, a Taiwanese-owned factory. Instead of negotiating, Tainan closed the factory, leaving 1400 workers without jobs. Due to industrial collusion, union members were prevented from getting jobs anywhere else.
Union members decided to take a bold step: start up the first sweatshop-free union-made apparel company in El Salvador. They mobilized an international campaign against Tainan that resulted in its agreement to invest in the new, worker-created company, Just Garments. They pressured the government to release the sewing machines that had been impounded when Tainan closed. Just Garments now employs around 100 workers, most of whom are women.
Just Garments aims to reach a conscientious consumer market under their own label without depending on multinationals.
"Much of the maquila work here in El Salvador is done under blows and threats... But here [at Just Garments] it is a different kind of motivation; here we work willingly, by our own motivation... It is an investment in our own future," said Nicsa, a Just Garments worker.
Claudia Huiza, a Salvadoran human rights organizer living in California, reports, "The women are so poor. They don't have anything to eat when they don't have work. Many of them lost their homes to hurricane Stan in October 2005. Some lost family in the civil war, and most of them are single mothers with young children. Yet they continue to stay strong and keep believing in Just Garments."
"The true emancipation of workers is when they do not need a boss. When they do it for themselves... Just Garments has no managers, it functions without management. Managed by the women workers themselves, with a bit of help in financial matters, in administrative matters ñ and there they go. That is a dangerous message for business owners," said Gilberto García, the factory's legal representative.
The workers are committed to creating their own economic opportunity. "This is a work of love, and a work of hope, something that we have worked so hard to create together. I want to stay to see it through and to see it grow and succeed," stated Delmy, another worker.
The company is trying to raise money to pay off debts and to purchase large amounts of cloth in advance to start selling through a distributor in the US.
Just Garments' goal of providing workers a living wage and a healthy working environment while maintaining an affordable price is a direct affront to the "free" market system of corporate domination and worker exploitation. Kathryn Sharpe, an activist from Minneapolis and recent visitor to Just Garments, noted: "They are offering an alternative and that's threatening to companies that are dependent on an exploitative model."
"Just Garments has taken a leap of faith and is hoping that the sweatfree movement will get up to speed fast enough to make it a success," said Sharpe. As it gains financial stability, the company hopes to transition its ownership structure from a worker-managed, half worker-owned entity (the former Vice President of Tainan still owns the other half), to become a fully worker-owned cooperative. Until they can reach this ultimate goal, their objective is to establish a co-op that will manage the workers' shares.
It has been important for Just Garments to connect not only with responsible investors, but also with activists who understand the struggle and want to invest in the sweatshop-free movement. Just Garments is more than a factory. It is part of a global movement for dignified production where workers are the decision-makers.
How to get involved:
1) E-mail info@justgarments.net to be included on Just Garments' mailing list. You will be informed of when and where Just Garments products will be sold.
2) Donate money to Just Garments and their union.
Send tax-deductible checks to: Activist San Diego, 4246 Wightman St., San Diego, CA 92105. Write "Just Garments" in the memo line. Make online donations at www.activistsandiego.org.
3) Just Garments is looking for organizations and businesses to pre-purchase large scale orders of 10,000 T-shirts. Pay now and receive the shirts by the end of the summer. If you, or some institution you know (university, company, etc.) might be interested, please contact info@justgarments.net.
4) Join the sweatfree movement by organizing in your community. See www.sweatfree.org.
Liana Foxvog is National Organizer of SweatFree Communities, liana@sweatfree.org, 413/586-0974. For more information on Just Garments, visit www.justgarments.net.