They know only one hair color: blonder!
The proliferation of TV blondes will come as news only to the blind and those who have killed their televisions. Halos of honeydew yellow, strident gold, and silver birch radiate on the morning news shows, the afternoon gab slots, the business news on CNBC, prime time, and the overnight newsreader desks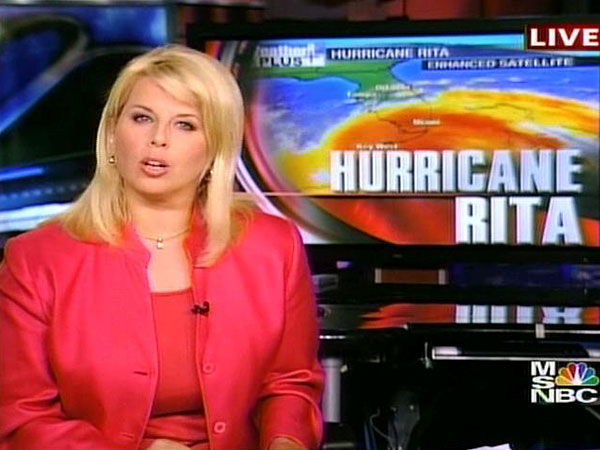 A whiter shade of TV pale.
Fashionably black-rooted like CNN's Paula Zahn, framed in a head scarf like Fox's Amy Kellogg, or peering out of a glistening hair doughnut like MSNBC's Alex Witt, the blond broadcasters dominate the airwaves in numbers far beyond their proportions in the population. Joanna Pitman estimates in On Blondes that only one in 20 white adult Americans is a genuine blond, yet one in three adult American females has the look. If you do the math, it's clear that many female newscasters lie about their true hair color every time they appear on television.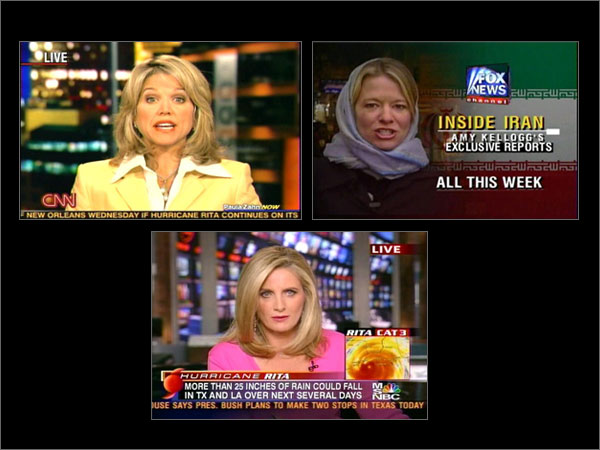 The blondness periodic table.
Lest you think I exaggerate the bogus-blonde glut, I recommend a visit to TVheads.com. The Web site maintains an archive of 50,000 newscaster images collected by volunteers during the last three years. TVheads.com breaks out newscasters by network and by sex, and by my definition of blond, at least 60 percent of the females qualify. Anthropologist Grant McCracken advanced the idea of a "blondness periodic table" in his 1995 book Big Hair: A Journey Into the Transformation of Self. Sort the newscasters on TVheads.com's pages into McCracken's six categories yourself, as I have: "bombshell blonde" (Fox's Laurie Dhue); "sunny blonde" (Katie Couric); "brassy blonde" (Fox's E.D. Hill); "dangerous blonde" (CNN's Nancy Grace); "society blonde" (Fox's Janice Dean); and the "cool blonde" (CNN's Lou Dobbs).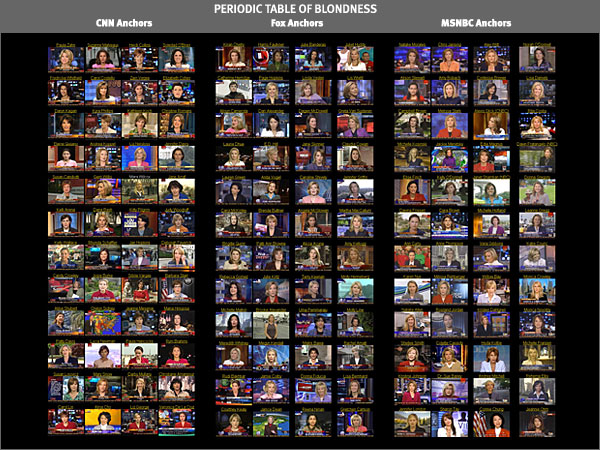 The female newscasters as collected by TVheads.com.
Greta Goldilocks.
As the leading scholar of blond studies, Joanna Pitman provides us with the best collection of statistics, history, prehistory, and commentary on the subject. Her book offers an evolutionary psychology explanation for the hair color's timeless allure: We associate blond with youth, she writes, because the hair of babies and that of young children tends to become wan and darken with age. Pitman—a blonde, incidentally—notes blond women appear younger and thus more fertile, winning them an evolutionary advantage over brunettes. Blond hair "also softens facial lines and is flattering to mature faces," she attests, which explains why women from Baroness Maggie Thatcher to Fox's Greta Van Susteren hit the bottle. In Van Susteren's case, her colorist got a little help from her plastic surgeon.
The disturbing suggestion here is that men who watch lots and lots of TV news are cruising for vigorous virtual mates at the same time they're grazing for news. Ladies, don't leave your husbands alone with the TV.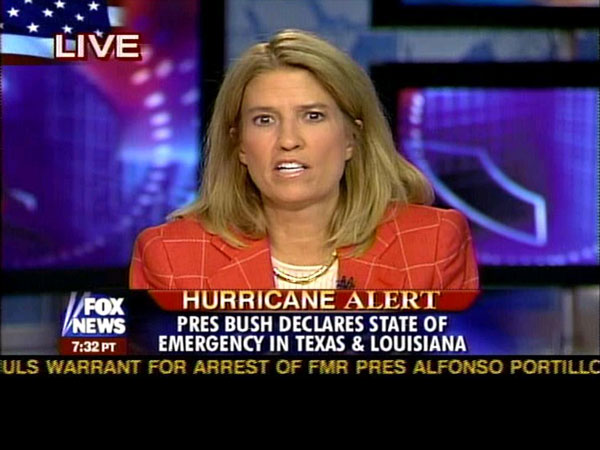 So blond, it might as well be a wig.
I imagine that at one point in her life, the 60-year-old Diane Sawyer of ABC News was an honest blonde, but is there any middle-aged woman alive whose hair naturally looks like this? A relatively late arrival to the blond gang is NBC's Andrea Mitchell, 59, who looks like an Earl Scheib paint and body shop hosed her hair down with a gallon of Gold Leaf Metallic Clearcoat. Compare Mitchell's current paint job with this brown-but-highlighted publicity shot from 2003. As recently as 1996, the 49-year-old Katie Couric bobbed her hair in brown. They're not the only aging queens to turn the highlights all the way up to high-beam. Pitman reports in her book that Elizabeth I, when she was in her late 50s, went from graying auburn to golden blond for the Armada Portrait thanks to a wig. Blond hair "emphasized the queen's uncorrupted and untouchable virginity," writes Pitman, and allowed her to remain England's fairest maiden. While alive, Elizabeth encouraged comparisons between her and the Virgin Mary, who, like many goddesses and saints, was routinely painted in blond curls.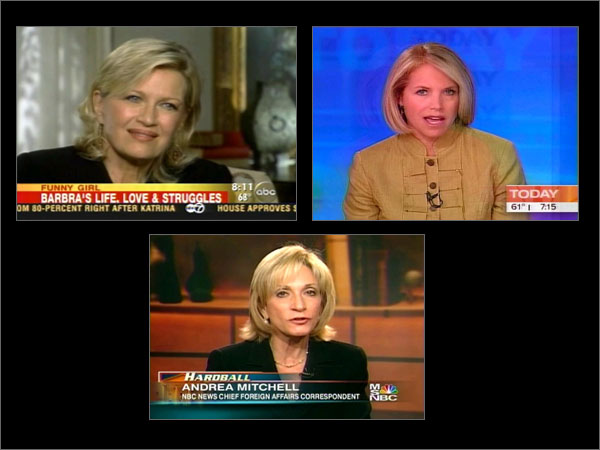 Would we find Campbell Blonde more credible than Campbell Brown?
Consider NBC reporter Campbell Brown. Now consider her Campbell Blonde. If the newscaster market is as venal and craven as I think it is, I'm sure that she and her agent consider it all the time. What doesn't she have that Diane Sawyer, Katie Couric, Paula Zahn, and a host of other successful newscasters have? How long can she possibly hold out? Brown seems to know that to be blonded is to be sweetened for consumption, and if she were to take that step, which flavor would she choose? Vanilla Crème, Champagne on Ice, White Chocolate Cheesecake, Dulce de Leche, Coconut Cream Pie, Swirled Honey, Butter Rum, or some other Paul Mitchell variety?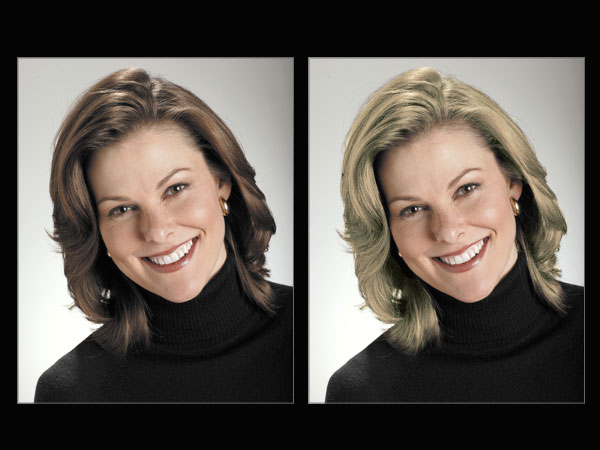 The male outliers.
Allow me to pause from all of this hurtful talk objectifying accomplished female journalists to say a few cruel things about TV's Aryan Brotherhood, led by the 60-year-old glimmer twins Lou Dobbs (CNN) and Chris Matthews (MSNBC). If they're both true blonds at 60, they should be put on display at a medical museum. John Gibson (Fox) and Anderson Cooper (CNN) are gray and proud, so why can't thinning and thinninger Lou and Chris acknowledge the same? To achieve the look of Aphrodite, the Greeks yellowed their hair with saffron, colored powders, and mud. Other historical dyes include pigeon dung and urine, Pitman writes, while moderns rely on lemon juice, pool chlorine, and commercial concoctions. But not since late-1970s Brit-punks started soaking their hair in communal vats of hydrogen peroxide has anybody been quite as stridently show-biz blond as Chris.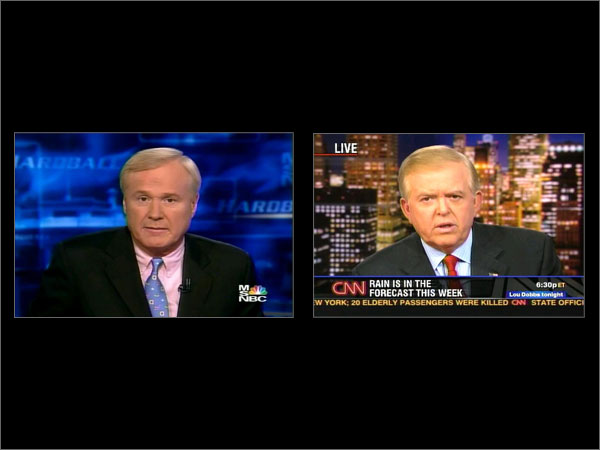 What's wrong with Carol Costello?
Broadcast-quality blond hair demands submission to a painful, stinky, and boring chemical process. And it's a never-ending chore. You can't permanently color hair the way you can LASIK eyes, tattoo eyelids, or lift a face. At the rate the TV peroxide war is moving, the next generation of broadcasters will sport hair whiter than Johnny Winter's. Soon, network executives will concede that they cast anchors the way Hollywood used to cast stars: Find a beauty and make her blonder. (By the way, am I the only TV pervert to notice the rising number of sweater-clad newscasters? Specifically, I'm thinking MSNBC's Amy Robach and CNN's Susan Hendricks, but many examples abound.)
If female beauties must read our news to us, what, pray tell, is wrong with giving the task to brunettes like CNN's Carol Costello? Someday we'll look back at the chemical blonding of hundreds of newscasters as a torture on the order of foot-binding in China. Say, you don't suppose Costello has her highlights done, do you?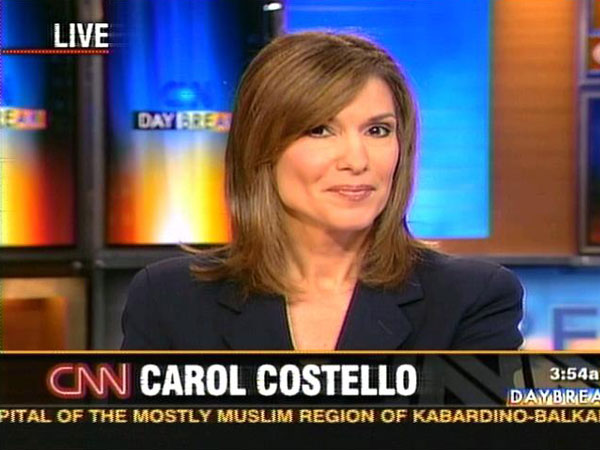 The new blond: Fox lips.
Blond hair may have already passed as a sexual signifier on news networks. The new blond is lips, specifically what people inside the industry call "Fox lips," and they are worn by Fox's Laurie Dhue, Fox's Gretchen Carlson, and MSNBC's Rita Cosby, three top blondes. Achieved in the makeup room in a procedure that sounds one step this side of cosmetic surgery, I'm told that powder, pencil, and paint can turn even the weakest mouth into a juicy vagina dentata.
How big are Fox lips? When Rita Cosby switched from Fox to MSNBC, a construction crane was called in to move hers, which resemble a pair of oily, red eels mating angrily.