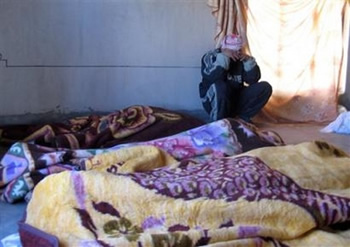 An Iraqi man weeps next to the bodies of victims of an alleged U.S. airstrike in Beiji, 250 kilometers (155 miles) north of Baghdad, Iraq, Tuesday Jan. 3, 2006. Iraqi police said U.S. aircraft bombed a house Monday night and that seven people were killed and four injured. The U.S. military had no immediate comment on the alleged airstrike or deaths, but the U.S. Central Command said in a press release that Navy F-14s in the vicinity of Beiji strafed a target and dropped a precision-guided bomb 'against insurgents placing an improvised explosive device.' (AP Photo/Bassim Daham)
A U.S. air strike killed 14 members of one family in the oil refining town of Baiji in northern Iraq, an Iraqi security force spokesman said on Tuesday.
The air raid destroyed one house, killing the 14 people inside, said the spokesman for the Joint Coordination Center, which handles information and liaises between U.S. and Iraqi forces.
Another four houses were hit and three people were injured in the raid on Monday night, he said.
"We have this information from the Iraqi police and army in Baiji," said the spokesman, who declined to give his name.
The U.S. military had no immediate comment.
Baiji has seen considerable rebel violence, including efforts by insurgents to disrupt oil and fuel flows through its refinery, the biggest in Iraq. The closure of the refinery last month is causing serious shortages in fuel across the country.
U.S. forces have used air power increasingly throughout the past year; official military data show only one strike was carried out in March and the average in the first quarter was five strikes per month compared to over 50 in the last quarter.
Iraqi medical staff, police and political leaders, particularly in the restive, Sunni Arab-dominated west and north, have reported civilian casualties in such raids; U.S. commanders say they make every effort to minimize that risk.