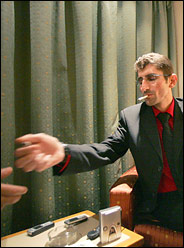 Hussam Taher Hussam, once called "the masked witness," lights his lawyer's cigarette in an interview about his claims to have given false testimony about the killing of the former Lebanese prime minister, Rafik Hariri.
The United Nations investigation into the assassination of the former Lebanese prime minister, Rafik Hariri, is beginning to show some cracks: one witness is dead, another is in jail and still another has recanted his testimony with a fantastic story of abduction, drugging and bribery.
In a case that has begun to sound more and more like a fictional spy thriller, with charges of Soviet-style intimidation tactics and a witness who died when his car ran off a road, the issue of witness credibility has risen to the forefront. While it is too soon to draw any firm conclusions on how the new developments will affect the investigation, they have at least raised questions about the validity of crucial evidence supporting the charge that the Syrian state was responsible for Mr. Hariri's assassination, according to Western diplomats based in Syria and a draft of an interim report by the United Nations investigator, Detlev Mehlis.
A month ago, Syrian officials were reeling, accused by investigators of complicity in the killing and fearful that the Security Council would demand that they hand over some of Syria's most powerful people or face crushing economic sanctions and international isolation. But now, it is Syrian on the offensive, undercutting credibility of witnesses and diluting charges that Syria has refused to cooperate by sending officials to Vienna for questioning.
And more troubling news seems to be on the way, as Mr. Mehlis prepares to make his final presentation to the Security Council by Dec. 15. Two people who work for a Syrian government agency said Tuesday that another witness would soon recant his testimony, claiming he was bribed with half a million dollars by Lebanese officials to level charges against Syrian officials.
The two people who said they had heard the new claims from the witness - who they said called himself Abu George - insisted on anonymity out of fear of retribution for undermining official plans to spring this development at a time most embarrassing to the investigation.
At the moment, Syrians are enjoying the spectacle of Hussam Taher Hussam, the rail-thin 30-year-old known as "the masked witness," who outed himself recently with outlandish claims to have given false testimony after being kidnapped, tortured and offered $1.3 million in bribes by Lebanese officials - charges that even critics of the investigation say are hard to believe.
Security agents escorted Mr. Hussam into a hotel room on Monday to recount for a reporter a tale that exonerates him and Syrian officials of all wrongdoing while implicating Syria's chief enemies in the killing and subsequent conspiracy to frame Damascus. He repeatedly boasted about his ability to mislead people.
"No, they are not dumb," Mr. Hussam said of the investigators, who he said never doubted his account of events even after questioning him dozens of times. "I am smarter. I penetrated through all of them. I am proud of it. I penetrated through all of them, and I acted well."
Regardless of which of his versions - if either one - of his accounts are true, his change of tune presents a complication for the investigation. He is the witness who implicated the president's brother-in-law, Asef Shawkut, in planning the murder, and reported seeing the van packed with explosives that was used in the assassination, according to Western diplomats based in Syria and a draft of the report that officials said was inadvertently released by the United Nations.
He is also the witness who apparently told the commission that an officer told him "there soon would be an earthquake that would rewrite the history of Lebanon."
A European diplomat based in Damascus, who asked for anonymity because he was not authorized to speak publicly, said: "He definitely has a credibility problem. You cannot trust this guy. How did Mehlis trust this guy?"
A senior State Department official said the United States had no evidence that Mr. Mehlis's investigation was encountering problems and warned that Syria was waging a "concerted effort to cast doubt on the Mehlis investigation." He said allegations about the recanting of one witness's testimony and other problems did not constitute anything like evidence that the Mehlis inquiry was running into trouble, as Syria says.
Mr. Mehlis, who said Monday he is leaving the investigation after his final report, said many of the setbacks were to be expected in such a complex investigation. Ultimately, he said, it will all have to be sorted out by a tribunal that will weigh the evidence and the contradictory statements given by individual witnesses.
Mr. Mehlis also said Mr. Hussam was an important witness, and said he expected that he would be summoned to Lebanon for follow-up questioning.
"That is why we put on paper what people tell us," Mr. Mehlis said in a discussion of the case in his Beirut office on Monday. "That is why we let them read what we put on paper. That is why after reading it, we let them sign it. That's why we have asked them: 'Have you been threatened? Have you been given promises? Have you been offered or given money?' And we let them read it and let them sign it, because it unfortunately happens that people die, that people get killed, that people get sick, or change their minds on what they have told us."
He also said he continued to believe Mr. Hussam's initial testimony.
"But we didn't find a major inaccuracy in his statements," Mr. Mehlis said. "And again I find it very credible. But after all, we are doing the investigation; we are not doing the judgment. And in cases like this the judge will decide."
Even before Mr. Mehlis and his team reported their findings to the Security Council, questions arose about the credibility of one of the main witnesses - Zuhair Ibn Muhammad Said Saddik.
Mr. Saddik said senior Syrian and Lebanese officials had met in his apartment to plan the assassination. The report says that Mr. Saddik approached the commission with detailed information about the planning of the attack but then later changed his testimony and confessed to participating in the attack. He is now in jail in Paris at the request of Mr. Mehlis.
Credibility issues arose again when the German magazine Der Spiegel reported that Mr. Mehlis was introduced to Mr. Saddik by Rifaat al-Assad, the late President Hafez al-Assad's brother, who is an opponent of his nephew's government. The newspaper also reported that Mr. Saddik told his brother in Damascus that "I've become a millionaire" as a result of his testimony.
Mr. Mehlis acknowledges in his report that many of Mr. Saddik's charges can not be corroborated, but that he has added credibility because he implicated himself. The Syrians say he is a liar. The Security Council will have to decide.
In late November, a witness connected to some of Mr. Mehlis's most important evidence - cellphone cards that were linked to the assassination - was killed when his car flipped into a valley. Nawar Habib Donna, a Tripoli cellphone dealer, was identified as having sold five of the eight cellphone cards that Mr. Mehlis's team had connected to the killing.
And then came Mr. Hussam, who held a news conference in Damascus last month to insist that all his testimony was a lie, beaten out of him by Lebanese officials, offered only after he had been drugged by Lebanese authorities.
In his later hotel-room interview with security agents, Mr. Hussam smoked French cigarettes as he offered a two-hour account of the events that led him to this place in the investigation. He said he had never actually been an employee of the Syrian intelligence services, but since childhood he had spied on those around him and informed on them to the police. So he said when he went to Syria to work as a barber, it was natural that he would continue snooping. "It is a gift and a sense, like they say, a sixth sense," he said about his ability to convince people he is telling the truth when he is not.
Souad Mekhennet contributed reporting from Beirut for this article, and Katherine Zoepf from Damascus.