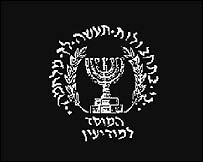 Mossad emblem: Mrs Linstad insists she stayed loyal to the Palestinians
A leading Norwegian pro-Palestinian activist has said she once worked for the Israeli intelligence agency Mossad as a double agent.
Karin Linstad, member of the Norwegian Palestine Committee, is said to have provided details of Palestinians in Beirut before Israel's 1982 invasion.
Mrs Linstad gave no further information to the media, but said she was always loyal to the Palestinians.
The information emerged as part of publicity surrounding a book launch.
The book, War and Diplomacy, by Odd Karsten Tveit, is said to identify Mrs Linstad as a former Mossad agent. Norway has long played a role in trying to achieve peace in the Middle East.
Mrs Linstad's husband Trond Ali Linstad, who converted to Islam in the 1980s, told the Associated Press he had been unaware of his wife's activities but had "complete faith that her evaluations were right".