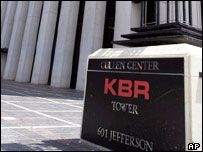 KBR is no stranger to controversy
A former employee of Halliburton subsidiary KBR has admitted taking $110,300 (£61,225) in bribes from an Iraqi firm it awarded a US contract.
The $609,000 contract was to renovate warehouse and office space in Iraq.
Glenn Allen Powell - whom KBR has fired - faces up to 20 years in jail and a fine of up to $1.25m (£694,376).
Iraq-related US government contracts have won the firm and its parent, which was once run by US vice president Dick Cheney, more than $9bn.
Unacceptable behaviour
"We do not tolerate this kind of behaviour by anyone at any level in any Halliburton company," Halliburton spokeswoman Cathy Mann said of the bribe-taking.
KBR sacked Mr Powell, now aged 40, after an internal investigation in January.
In March, Jeff Alex Mazon, a former employee of the same Halliburton subsidiary Kellogg, Brown and Root (KBR) was indicted on charges of defrauding the US military of more than $3.5m.
A Kuwaiti businessman Ali Hijazi has also been indicted on the same charges but is still at large in Iraq. He and Mr Mazon devised a scheme to overcharge the military for fuel in Iraq.
In March, an audit report investigating $108m-worth of questionable fuel delivery costs in Iraq was released by Congressional Democrats critical of Halliburton's work in Iraq.
Mr Powell is due to be sentenced on 18 November in federal court in Illinois, while Mr Mazon's trial date could be set at a court hearing on 8 September.