Ever since the Pentagon increased its covert northern African operations -- through programs known as the Pan Sahel Initiative and its replacement Trans-Saharan Counter-Terrorism Initiative (TSCTI) -- Defense Secretary Donald Rumsfeld has used his virtual parallel intelligence and paramiltary force, known variably as the Proactive, Preemptive Operations Group (P2OG), Task Force 121, and Titrant Ranger, to engage in congressionally-unsupervised operations in the Saharan region. This past June, US Special Forces took part in Flintlock 05 exercises with the same Mauritanian officers who were involved in the recent coup against President Maaouya Ould Sid'Ahmed Taya while he was at King Fahd's funeral in Saudi Arabia. Other Mauritanian coup leaders were trained at U.S. European Command (EUCOM) facilities in Stuttgart, Germany. U.S. troops and their Mauritanian counterparts used the strategic Atar airport, in Mouakchott (not to be confused with the capital Nouakchott), as a staging post for joint operations. Atar airport is near the southeast part of Western Sahara in the middle of Mauritania.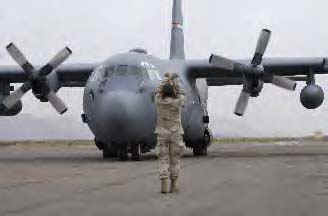 U.S. Air Force C-130 Hercules landing at Atar airport, Mauritania for 2004 Pentagon "anti-terorism" exercise.
Although the State Department condemned the coup against Taya, who is now in exile in Niger (which is also part of the TSCTI), it has little control over the off-the-books operations of the Pentagon's hybrid force of U.S. special operations forces, foreign mercenaries, and ex-CIA, Green Beret, and Delta Force members. Taya, like Sudanese Vice President John Garang who died in a helicopter "accident" days before Taya's ouster, may have become another "throw away" African leader. The rebellious Mauritanian military officers formed the Military Council for Justice and Democracy and plan to rule the country for two years. They named U.S.-trained Colonel Ely Ould Mohammad Vall as chairman. Next year, U.S. oil companies will begin to pump oil from rigs off the Mauritanian and Western Saharan coasts. The U.S. embassy in Nouakchott was constructed by a private contractor complete with underground tunnels and escape routes to facilitate the extraction of Mauritanian leaders in the event of coups or failed coups. In August and September 2004, there were two unsuccessful U.S.-backed coup attempts against Taya. Unmarked helicopters used by the coup plotters in 2004 were supplied by U.S. forces.

Intelligence sources have also reported that "retired" U.S. military officers with virtually unlimited budgets have recruited Mauritanian, Ivorian, Malian, and other West African college students in the United States and groomed them as future civilian leaders who would pledge allegiance to the United States. Most of the targeted students come from elite families and certain tribes (for example, the Fulani) in the West African nations. The U.S. has set up secret camps in Mali (near Gao, Bamako, and Timbuktu) and Senegal (near Dakar) to train rebel groups that would be poised to take over any Sahelian country where Islamists gain or threaten to gain power.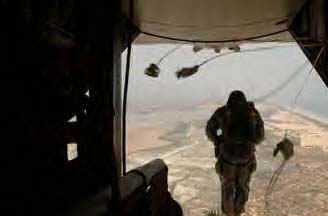 U.S. paratroopers in Flintlock 05 exercise near Dakar, Senegal, south of Mauritania
According to intelligence sources, the Hallburton subsidiary of Kellogg, Brown & Root, a top covert operations contractor for the Pentagon, has established a secret base in southern Libya under the guise of a water pipeline construction project, to train Mauritanian, Western Saharan, and Tuareg cadres.
Meanwhile, the Sudan People's Liberation Movement of the late Dr. John Garang, not content with media claims that Garang's death in a Russian-built Mi-76 Ugandan helicopter was an accident, has asked for an international probe of the crash. Garang was replaced by his deputy Salva Kiir Maydarit. Ugandan President Yoweri Museveni stated that his government has approached "a certain foreign government" to rule out sabotage or terrorism -- a none too subtle reference to Sudan. Sudan, unlike Uganda, does not have a track record with aerial assassinations like the 1994 shooting down of the Rwanda One aircraft carrying the Rwandan and Burundian presidents, which was planned by Ugandan, Rwandan exile, and U.S. forces.
JUNE 10, 2005
Noukchott, 10 June (AKI) - Following the recent slaying of 17 government soldiers in a terrorist attack on a military base in northern Mauritania, the United States has sent a contingent of 2,000 soldiers, as well as helicopters, to the area, the United Arab Emirates daily 'Al-Kalheej' reported on Friday. The US troops will use military bases set up in the desert in Mauritania and Mali three years ago as part of the war on terror.
The US battalion's mission is to help Mauritanian troops patrol the country's northern border with Algeria, where militants from the Algerian extremist formation, the Salafite Group for Preaching and Combat (GSPC), have been entering the country. The GSPC claimed responsibility for last Saturday's deadly attack on the remote military base, although the Mauritanian authorities maintain the attack, in which 17 soldiers were killed, was the work of Mauritanian and Mali extremists, linked to a few GSPC and smugglers operating along the borders between Algeria, Mali and Mauritania.
Analaysts say the GSPC took responsiblity for carrying out the attacks on the detachment of the Mauritanian army in an attempt to get back in favour with al-Qaeda, which the analysts allege has lately been distancing itself from the GSPC, due to the high number of defections in its ranks.
The stand-off between the GSPC and al-Qaeda is said to have begun April when Tunisian police arrested ten alleged terrorists heading to the Algerian mountains to join guerilla training camps. The ten were reportedly preparing a major attack against the capital Tunis, but Tunisian police managed to uncover the cell as a result of informants within the Algerian Salafite group.
adnkronosinternational - http://www.adnki.com/index_2Level.php?cat=Terrorism&loid=8.0.176009466&par=0