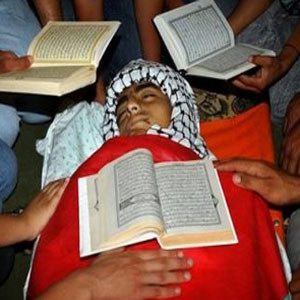 The Palestinian Interior Minister blamed the Israeli authorities for such horrible crimes
Two Israeli settlers stabbed to death a 12-year-old Palestinian boy near the West Bank city of Nablus, Palestinian sources said.
The Palestinian Interior Ministry said in a statement that Yazan Mohamed Mussa, 12, was killed due to an atrocious crime committed by two Israeli settlers.
The incident took place late Wednesday in a Palestinian town next to the Jewish settlement of Shiloh in the northern West Bank.
Witnesses reported the stabbing to the Police, and Mussa was rushed to a hospital in Nablus, where he died.
Doctors said Mussa was stabbed 12 times.
Witnesses reported that the boy was stabbed during a clash with Israeli settlers.
Mussa's father said he was unable to identify the attackers.
But another Palestinian boy who was with Mussa at the time of the stabbing said the victim was attacked by two bearded settlers.
Israeli Police claimed that the boy may have been killed in a feud between ruval families in Mussa's village.
However, Police spokesman Shlomi Sagi said they are still investigating the case.
The Palestinian Interior Minister blamed the Israeli authorities for such horrible crimes against innocent civilians, and accused them of not providing enough protection for the Palestinians in accordance to international law and pacts.
Knesset rejects delaying Gaza withdrawal
In another development, the Israeli Parliament rejected on Wednesday three bills aimed at delaying the Gaza pullout plan.
Israeli Prime Minister Ariel Sharon said the vote in the Knesset showed that a majority of the Israelis support the disengagement plan, due in mid-August.
"The disengagement plan will be implemented on time, as planned," he said. "But I want to say to the settlers: I understand your suffering, I feel the same pain. I love all of you."
Sharon has already won approval from his government and the Legislature to withdraw from all 21 settlements in the occupied Gaza Strip and four other enclaves in the northern West Bank.
Meanwhile, Israeli security forces prevented rightist settlers from marching on Gaza for a third straight day.
Thousands of Jewish settlers gathered on Monday in the village of Kfar Maimon, in southern Israel, to march to the Gaza settlements. But Police said Thursday that less than 10,000 protesters remained out of an estimated 30,000 who initially gathered in the area.
Police said the protesters are allowed to stay in Kfar Maimon, but they would be banned from approaching Gaza, which has been closed to non-residents.
In Gaza City, the Palestinian Authority and the resistance movement Hamas reached a deal to end a week of clashes that left two dead and 30 injured.
"We are emphasizing our national unity and we are against internal fighting," Ismail Haniya, a top Hamas leader, told a press conference.