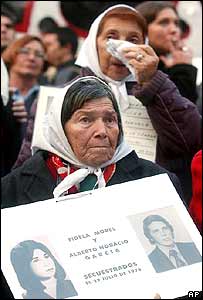 Some 30,000 people may have been killed during the Dirty War
Argentina's Supreme Court has ruled that amnesty laws protecting former military officers are unconstitutional.
The ruling clears the way for prosecutions of officials suspected of human rights abuses during military rule between 1976 and 1983.
The court upheld a decision by the Argentine Congress in August 2003 to scrap the amnesty laws.
Civil liberties groups say about 30,000 people were killed or went missing under the former dictatorship.
'Dirty War'
The Supreme Court voted by seven to one, with one abstention, to strike down two amnesty laws which had been in effect since 1986.
The legislation forbade the prosecution of military officers suspected of atrocities in the so-called Dirty War - a campaign waged by Argentina's military rulers against left-wing opponents.
The campaign ended with the country's return to civilian rule in October 1983.
About 3,000 military officers - about 300 of whom still serve in the armed forces - could be accused, the Associated Press news agency reported.
Ahead of the ruling, Argentine Defence Minister Jose Pampuro said some officers were anxious pending the outcome.
"In a personal capacity, some men who might be involved in some situation are expressing worry," he was quoted by AP as saying.
The Supreme Court ruling came in the case of former police officer Julio Simon, accused in the disappearance of a couple and of having taken their daughter as his own.
Under Argentine law, the decision will act as a precedent in other cases involving the Dirty War.
Go to Original Article >>>
The views expressed herein are the writers' own and do not necessarily reflect those of Looking Glass News. Click the disclaimer link below for more information.
Email: editor@lookingglassnews.org.