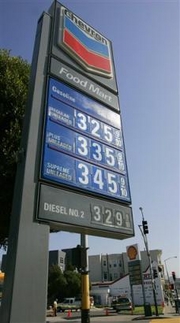 Gas prices are displayed at a Chevron station Thursday, April 27, 2006, in San Francisco. Chevron Corp.'s first-quarter profit soared 49 percent to $4 billion, joining the procession of U.S. oil companies to report colossal earnings as lawmakers mulled ways to pacify motorists agitated about rising gas prices. (AP Photo/Ben Margot)
Chevron Corp.'s first-quarter profit soared 49 percent to $4 billion, joining the procession of U.S. oil companies to report colossal earnings as lawmakers consider ways to pacify motorists agitated about rising gas prices.
Chevron released its results Friday after two of its biggest rivals, ConocoPhillips and Exxon Mobil Corp., already provoked public outrage with similarly large first-quarter profits. Combined, the three oil companies earned $15.7 billion during the first three months of the year. That's 17 percent more than the trio made during the same time last year when they went on to pocket a combined profit of nearly $64 billion.
"All these companies have so much money, they don't know what to do with it," said Oppenheimer & Co. analyst Fadel Gheit.
President Bush offered a suggestion to the oil companies Friday, urging them to plow more of their investments into projects that will increase energy supplies to meet a rising demand that is expected to intensify as emerging economic powerhouses like India and China continue to grow.
For their part, the oil companies have been emphasizing that they make far less money on each dollar of sales than many other industries that aren't being excoriated for their capitalism.
Taken together, Exxon, Chevron and ConocoPhillips made a first-quarter profit of $8.19 on every $100 in sales. In contrast, Internet bellwethers Google Inc., Yahoo Inc. (Nasdaq:YHOO - news) and eBay Inc. collectively turned a $19.20 profit on every $100 of their combined first-quarter revenue.
As important as the Internet has become, energy remains a more vital resource, generating a far higher sales volume that has fueled the mounting indignation over the amount of cash pouring into the oil industry.
The combined first-quarter revenue of Exxon, Chevron and ConocoPhillips totaled $191.5 billion — more than the individual gross domestic products of 189 different countries, including the likes of Chile, Denmark, Peru and Venezuela, according to statistics compiled by the Central Intelligence Agency.
Even as politicians snipe at the oil industry's profits, the government has been sharing in the windfall from high gas prices. In the first quarter, Exxon, Chevron and ConocoPhillips turned over a combined $13.8 billion in excise taxes — about 7 percent of their total revenue.
Chevron also is receiving a financial lift from a deal that Congress helped make last year. The San Ramon, Calif.-based company bought rival Unocal Corp. for $18 billion eight months ago, prevailing over a higher offer from a bidder backed by China's government. The Chinese bidder, CNOOC Ltd., withdrew after Congress threatened to block a Unocal sale to a company outside the United States.
The Unocal acquisition is paying off even better than Chevron envisioned, Chief Financial Officer Steve Crowe told analysts during a conference call.
Chevron's first-quarter net income translated into $1.80 per share, two cents above the average estimate among analysts polled by Thomson Financial. It compared to a profit of $2.7 billion, or $1.28 per share, in the same January-March period last year.
Revenue totaled $54.6 billion, a 31 percent increase from $41.6 billion last year.
Investors cheered the results as Chevron shares gained $1.32, or 2.2 percent, to $61.30 in early afternoon trading on the New York Stock Exchange.
If not for continuing production problems caused by Hurricanes Katrina and Rita last summer, Chevron said it would have made an additional $300 million — an amount that would have generated the highest quarterly profit in the company's 127-year history.
As it was, the performance marked the fourth consecutive quarter that Chevron has earned at least $3.6 billion as the company continued to capitalize on oil prices that have climbed above $70 per barrel since the first quarter ended.
The run-up recently has pushed gasoline prices above $3 per gallon, much to the frustration of consumers straining to pay their bills and politicians looking to win votes in an election year.
As Congress discusses tax changes that threaten to crimp the industry's profits, oil executives have been emphasizing that their companies have been investing in projects that will eventually increase oil supplies — something that could help lower prices.
Chevron raised its capital and exploratory budget by 76 percent in the first quarter to $3 billion. What's more, Chevron boosted its worldwide oil production by 10 percent during the first quarter, marking the highest increase in years, Gheit said.
The company also said it acquired a 5 percent stake in a joint venture that plans to build a refinery in Jamnagar, India that could process up to 580,000 barrels of oil per day. Chevron is considering boosting its stake in that refinery to 29 percent.
"Our company is in an excellent position to continue adding value for our stockholders and helping to satisfy the energy needs of the world economies," Chevron Chairman David O'Reilly said.
The moves to increase the world's energy supplies haven't been enough to mute critics who suspect the oil industry has conspired to drive up gasoline prices.
Oil industry executives have already been grilled in Senate hearings twice in the past six months and the hefty gains of the first quarter have raised the likelihood of a return engagement.
In California, Attorney General Bill Lockyer said it plans to subpoena the records of Chevron, Exxon and ConocoPhillips, as well as several other refiners as he looks for evidence of price gouging at the pump. An earlier investigation found nothing illegal.
Go to Original Article >>>
The views expressed herein are the writers' own and do not necessarily reflect those of Looking Glass News. Click the disclaimer link below for more information.
Email: editor@lookingglassnews.org.