Two and a half years ago, Public Interest Watch, a self-described watchdog of nonprofit groups, wrote to the Internal Revenue Service urging the agency to audit Greenpeace and accusing the environmental group of money laundering and other crimes.
Last September, the IRS began a months-long audit of the U.S. arm of Greenpeace, known for steering its boats in the way of whaling ships and oil tankers. This month, Greenpeace says, it received notice from the IRS that the group "continues to qualify for exemption from federal income tax" as a nonprofit entity.
Greenpeace says an IRS auditor told it that the PIW letter triggered the audit. The IRS won't say how it decided to audit Greenpeace.
What is clear is where PIW has gotten a lot of its funding: Exxon Mobil Corp., the giant oil company that has long been a target of Greenpeace protests.
"I believe organizations should be scrutinized and audited, but I just don't believe you should get targeted because ... you're a critic of Exxon Mobil," said John Passacantando, executive director of Greenpeace USA, the U.S. affiliate of Amsterdam-based Greenpeace International.
Exxon Mobil confirmed that it has provided funds to PIW, but said that it wasn't aware of the IRS audit and that it played no role in initiating the audit. In an email, company spokesman Mark D. Boudreaux said: "PIW's stated mission of ensuring that charitable organizations spend donations in accordance with their charitable tax status is a laudable public policy goal."
Another spokesman, Russ Roberts, added: "It's hard for us to have sympathy for an organization that would complain that the IRS audited them." Exxon Mobil said it funds think tanks and other groups that agree with its positions on global warming and other issues.
Eric L. Smith, an IRS spokesman, said that under federal law, he can't discuss the Greenpeace case. He said a nonpartisan IRS panel of career professionals reviews allegations against nonprofit groups to determine whether an audit is warranted. Reviews of the agency's decision-making process, he said, "have tended to find as a general rule that we are fair and even-handed."
According to its Web site, PIW was founded in 2002 "in response to the growing misuse of charitable funds by nonprofit organizations and the lack of effort by government agencies to deal with the problem." Its motto: "Keeping an Eye on the Self-Appointed Guardians of the Public Interest."
It was founded by Michael J. Hardiman, a Washington-based lobbyist and public-relations consultant who previously worked for a Republican congressman. As a lobbyist, he has represented the American Conservative Union and the American Trucking Association, among other groups.
The PIW Web site says the group's initial funding came from "business organizations." In an interview, Mr. Hardiman declined to name any of those sources. He said he left PIW in February 2004 to work in Iraq as a civilian employee of the Defense Department. His successor at PIW, Lewis Fein, who serves as interim executive director, also declined to name any of the group's funders.
PIW's most recent federal tax filing, covering August 2003 to July 2004, states that $120,000 of the $124,094 the group received in contributions during that period came from Exxon Mobil. The company wouldn't say whether it provided funds to PIW at other times, but said it no longer gives money to the group. The previous year, PIW reported donations totaling $49,600, but didn't identify sources.
PIW has criticized several nonprofit groups for alleged misdeeds, including the American Heart Association, which it accused of allowing its logo to be used to endorse Subway sandwiches in exchange for donations -- a charge the AHA denies. It also wrote to the IRS in August 2003 to urge an audit of Dogwood Alliance, an Asheville, N.C., forest-protection group that has campaigned against office-supply chains Staples Inc. and OfficeMax Inc.
Sarah Hodgdon, executive director of Dogwood Alliance, said the IRS audited the group in 2004 but didn't revoke its tax-exempt status. "I suspected that the audit followed the letter that Public Interest Watch sent," she says.
She said the group has never targeted Exxon Mobil; the company said it isn't familiar with Dogwood Alliance.
Messrs. Hardiman and Fein said PIW hasn't specifically targeted groups of a particular political bent. "We went after conservative and some of the more lefty groups," Mr. Hardiman said. "We tried to throw our net rather wide."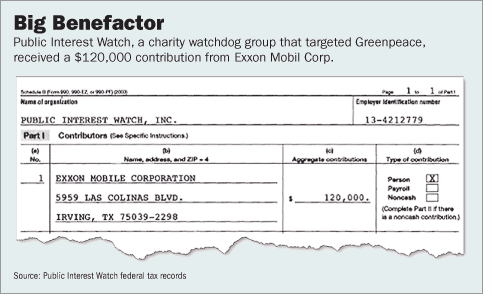 Since 2003, one of PIW's biggest targets has been Greenpeace. In its signed application that year for tax-exempt status from the IRS, PIW named only one nonprofit on which it was focusing -- Greenpeace -- and noted that it "has launched an indepth investigation of" the group. While PIW is exempt from paying federal taxes, contributions to the group aren't tax-deductible.
Greenpeace has labeled Exxon Mobil the "No. 1 climate criminal" and taken particular exception to the oil company's insistence that fossil fuels aren't the main cause of global warming. Greenpeace protesters spilled red wine on tables at an oil-industry meeting in London in February 2003 where Lee Raymond, Exxon Mobil's chief executive officer at the time, was the guest of honor. In May that year, activists chained themselves to the main gate of Exxon Mobil's headquarters in Irving, Texas, where executives were gathering for the company's annual meeting.
In September 2003, PIW wrote to the head of the IRS urging the agency to audit Greenpeace and to challenge its tax-exempt status. PIW attached a report it published in which it accused Greenpeace of "blatant self-dealing," money laundering and other illegal activities. The letter accused Greenpeace of "laundering" more than $24 million in tax-deductible contributions by diverting them to a related entity that had held protests against the Iraq war, an oil tanker and a nuclear-power station.
Greenpeace officials said an IRS auditor showed up at their Washington office Sept. 12, 2005. Mr. Passacantando said that when the auditor, Charles Walker, arrived, he pointed to a picture of an activist chained to an Exxon Mobil gas pump and said, "You guys are engaged in illegal activity and this stuff has got to stop." Mr. Walker later said the audit had been triggered by the PIW complaint, according to Mr. Passacantando.
Mr. Walker didn't return a telephone call seeking comment. Mr. Smith, the IRS spokesman, said he couldn't comment on Mr. Walker's alleged remarks.
Greenpeace officials said the audit lasted nearly three months; they had a closing conference with the IRS on Dec. 8. The group received letters from the IRS dated March 1 that said both arms of the U.S. organization -- Greenpeace Fund Inc. and Greenpeace Inc. -- still qualified for tax-exempt status.
The letters did note nine "deficiencies" uncovered during the audit, including Greenpeace's recordkeeping. The agency also found that while the activist group had been engaged in unspecified unlawful activities, they weren't Greenpeace's primary purpose and therefore don't affect its tax status.
Write to Steve Stecklow at steve.stecklow@wsj.com
Go to Original Article >>>
The views expressed herein are the writers' own and do not necessarily reflect those of Looking Glass News. Click the disclaimer link below for more information.
Email: editor@lookingglassnews.org.