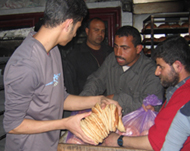 Gazans stock up bread on Saturday. Photo/Laila el-Haddad
Wheat-flour stocks have run out in the Gaza Strip, with most bakeries closing and the United Nations warning of a looming humanitarian crisis after a nearly two-month commercial closure of Gaza imposed by Israel.
Gaza's 1.5 million Palestinians face an unprecedented food shortage because of Israeli closures that have prevented the import of wheat, the United Nations Office for the Coordination of Humanitarian Affairs in the Occupied Palestinian Territories (OCHA) said on Sunday.
"The situation is extremely serious," David Shearer, OCHA's head of operations, told Aljazeera.net. "In the next day or so all bread supplies will dry up.
"There is very little else around in terms of rice, which is also short in supply. Bread is the staple diet for Palestinians. It is also the food of the poorest people, so if that's not available, people will start to go hungry," Shearer said.
According to the World Bank, 65% of Gazans live below the poverty line, surviving on less than $2 a day.
"What we were warning before was that stocks were getting low. Today we are saying stocks are gone, and the end-point has been reached," Shearer said.
Emergency stocks depleted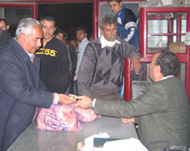 Bakeries limited the amount of bread. Photo/Laila el-Haddad
The United Nations Relief and Works Agency and the World Food Programme have run out of emergency flour stocks, he said.
The Al-Mintar (Karni) crossing is Gaza's commercial lifeline, the only point through which large-scale import of wheat and other goods can take place. The crossing has been closed for nearly 50 days this year, a total of 60% of the time, according to the UN.
The financial losses to the Palestinian economy are estimated at $500,000 a day.
The crossing was opened sporadically during the closure, but 3594 metric tonness of wheat flour contracted to local mills was unable to enter Gaza during this time, the World Food Programme said.
According to the Ministry of Economy, Palestinians in Gaza consume about 350 tonnes of flour a day, but all flour mills have shut down because of the depletion of wheat stocks, and bakeries are working through their last bags of stored flour.
Long lines
Customers line up to buy bread on Saturday. Photo/Laila el-Haddad
As word of the shortage spread, long lines formed through the night in front of the few bakeries still open for business, with residents flocking there to buy bread and flour for families under the roars of Israeli warplanes circling Gaza's skies.
Bakery owners were rationing bags of bread they had baked with the limited flour stocks in their emergency storage. In some instances, fights broke out between desperate customers.
"My husband waited for three hours to buy a bag of flour so we can bake at home, and all the bakeries have closed in our town. We don't know what we will do in a few days" said 50-year-old Um Ramadan, who has an eight-member family.
The UN says the usual 30- to 60-day wheat stock has been exhausted, and other basic food commodities, such as dairy products and fruit, are in short supply.
Rice and sugar are selling at more than twice their normal price and are difficult to find in stores, while prices of local vegetables marked for export, such as tomatoes and green peppers, have plummeted.
'On a diet'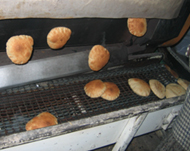 Bread is a staple for Gazans. Photo/Laila el-Haddad
Nabil Abu Rudeinah, a spokesman for the Palestinian president, criticised the closure of the border crossing.
"Israel must realise it cannot starve the Palestinians," he said. "The situation is critical and we cannot accept it. We have asked the Americans to intervene."
Dov Weisglass, the Israeli prime ministerial adviser, recently described the Israeli sanctions policy after Hamas's January election victory as one in which Palestinians would be "put on a diet", but not starved to death.
The United Nations has condemned the closure and noted that 40% of children in the Gaza Strip suffer from malnutrition and that under the fourth Geneva Convention, Israel, as an occupying power, is responsible for the welfare of Palestinians in the Gaza Strip.
Israeli authorities say the crossing has been closed because of security threats, specifically, fears that tunnels had been built under the crossing. Palestinians have rejected such claims, saying the closure is politically motivated.
In a news conference on Sunday at the Rafah crossing, Mahmoud Abbas, the Palestinian president, told reporters that the PA will meet with Israeli, Egyptian and American delegates today to try to resolve the issue.
"The meeting will have to do with all issues related to Rafah, and imports and exports. We realise there is a serious problem now in Gaza in regard to food shortages, and that will also be examined today, and we hope to find a solution to it. We will also take a serious look at security protocols, so this border can be opened continuously," Abbas said.
Go to Original Article >>>
The views expressed herein are the writers' own and do not necessarily reflect those of Looking Glass News. Click the disclaimer link below for more information.
Email: editor@lookingglassnews.org.