Helicopter death of Sudan's new Vice President and southern Sudanese rebel chief Dr. John Garang fits a pattern in Africa. Plane "accidents" are America's and Britain's preferred method for disposing of unwanted leaders, especially in Africa. At the time of his death, Garang was under the protection of Ugandan President Yoweri Museveni, a close Bush, Blair, and Sharon ally. Garang had just entered into a power sharing agreement between his southern Sudanese, mainly Christian and African liberation Sudan People's Liberation Movement, and Sudan's northern and mainly Arab and Islamic central government after a lengthy and bloody civil war. Ethnically diverse Northern and southern Sudan are known to straddle immense oil reserves -- and they are being exploited by Chinese oil companies much to the consternation of U.S. and British oil companies and the Bush and Blair administrations. Donald Rumsfeld's private special forces teams are operating throughout Africa, especially in Uganda

Garang, a one-time Marxist, may have outlived his usefulness to Washington and the Bush administration. He would join Savimbi, Mobutu, Kabila, and other African leaders as "throw aways" for the corporations that determine America's Africa policy. U.S. oil and military policies in the Rift Valley are centered on Uganda's Museveni, Rwanda's Kagame, and Ethiopia's Meles. No others need apply.
According to a Secret United Nations memo from March 1997, Museveni's (and those of his ally, U.S. military client Paul Kagame of Rwanda) fingerprints were all over the aerial assassination of the Rwandan and Burundian Presidents in 1994, an event that triggered the worst genocide since World War II and the eventual dismemberment of Congo/Zaire. Museveni supplied the Russian-made Igla series surface-to-air missiles, captured by U.S. forces in Iraq during Operation Desert Storm and used by Kagame's Rwandan Patriotic Front (RPF) to shoot down the Rwandan presidential aircraft. After seizing power in Rwanda, Kagame, with U.S. and British assistance, launched two invasions of Congo. Congo's fracture and the eventual assassination of Congolese President Laurent D. Kabila, with a wink and a nod from Washington and London, was a boon for U.S, British, and Israeli gold and diamond miners. Kellogg, Brown & Root/Halliburton helped Angola track down and assassinate Ronald Reagan's "George Washington of Africa," Dr. Jonas Savimbi, Angola's UNITA rebel leader. That was a boon for U.S. oil companies and British and Israeli diamond and gold miners. And to ensure that Angola's government remained a central player in UN negotiations between Luanda and rebel UNITA forces, UN envoy and chief negotiator Alioune Blodin Beye's aircraft suspiciously crashed on its final stage of landing at Abidjan airport, in Beye's native Ivory Coast.
Niger's Tuareg leader Mano Dayak was killed in a suspicious plane crash in Niger a year and a half after the shooting down of the Rwanda One aircraft. As with the Rwandan and Burundi leaders with their opposition, Dayak was engaged in peace negotiations with the central Niger government and was on his way to Niamey when the plane crashed. However, an autonomous Tuareg government threatened to undermine the plans of Exxon and other U.S. oil companies and mineral miners to have a free hand in exploiting oil and mineral resources around Lake Chad, along the Chadian-Nigerien border. Equato-Guinean officials were mum about who and how many people died in a recent plane crash near the capital Malabo. Equatorial Guinea, an oil rich but immensely poor African nation, was recently in the news as a result of the exposure of slush funds maintained by the former Riggs Bank of Washington, DC on behalf of Equatorial Guinea's dictator Teodoro Obiang. President Bush's uncle, Jonathan, was a senior executive with Riggs.
It is imperative to exercise a healthy dose of skepticism whenever there is a plane crash involvingkey political figures in Africa. We know from history that colonialist and apartheid forces were involved in the shooting down of the aircraft of UN Secretary General Dag Hammarskjold and Mozambican President Samora Machel.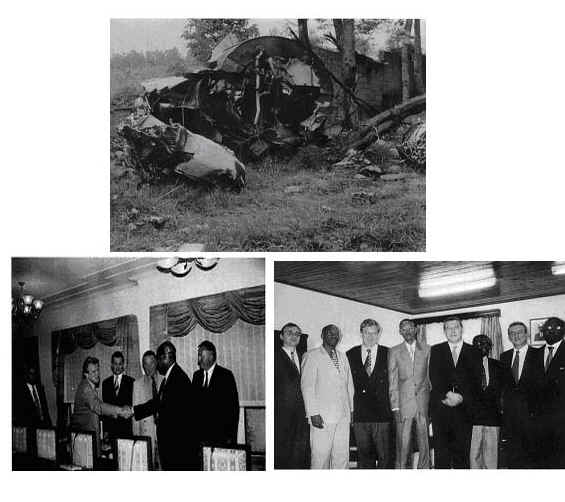 Are aerial assassinations in Africa influenced by Big Oil? Yes. The wreckage of Rwanda One Mystere Falcon executive jet (top) carrying Presidents of Rwanda and Burundi, their staff, and a French crew; ordered shot down on April 6, 1994 by U.S. clients Yoweri Museveni and Paul Kagame. Major oil and natural gas reserves had been discovered in Rwanda, Uganda, and Sudan. Soon, Museveni met with British officials of Heritage Oil (left) and Kagame with Shell Oil officials (right).
Now, Garang's death in one of Museveni's helicopters may presage the fracture of Sudan and that will be a boon for U.S. oil companies and British and Israeli gold and diamond miners. The trend is unmistakable. War crimes are being committed in Africa every day and Washington, London, and Tel Aviv rake in abominable profits.
Garang's helicopter crashed after it departed Museveni's ranch at Rwakitura, about 200 miles southwest of Kampala, near the Rwandan border. Garang was on his way back to New Site, his base in southern Sudan, after meeting with Museveni.
Go to Original Article >>>
The views expressed herein are the writers' own and do not necessarily reflect those of Looking Glass News. Click the disclaimer link below for more information.
Email: editor@lookingglassnews.org.