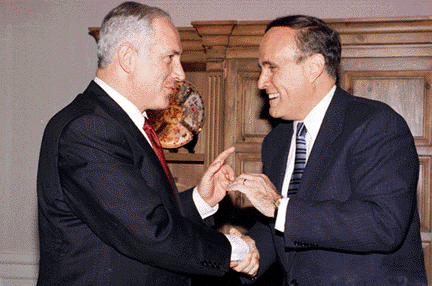 "...Israeli Finance Minister Benjamin Netanyahu had been on his way to a London hotel near the scene of one of the four blasts that ripped through the city today, said Foreign Minister Silvan Shalom.
Netanyahu was the scheduled keynote speaker at an Israeli corporate investment conference at the Great Eastern hotel near the Liverpool Street subway station..."
http://www.breakingnews.ie/2005/07/07/story210548.html
July 8, 2005 - "...Giuliani was having breakfast at the Great Eastern Hotel a half block from the Liverpool Street Station in Central London, when he heard an explosion, according to his spokeswoman Sunny Mindel..."
http://www.nynewsday.com/news/local/newyork/nyc-giu0708,0,612860.story?coll=nyc-homepage-breaking2
Go to Original Article >>>
The views expressed herein are the writers' own and do not necessarily reflect those of Looking Glass News. Click the disclaimer link below for more information.
Email: editor@lookingglassnews.org.