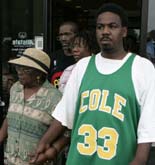 Mae Etta Griffin, 86; James Griffin, 57, Jonnie Warner, center right: and Terez Griffin, right, relatives of Larry Griffin.
ST. LOUIS (AP) -- Citing grave concerns that Missouri executed an innocent man, a coalition that includes a congressman, high-profile lawyers and even the victim's family pointed to evidence Tuesday they said could clear Larry Griffin's name.
But the former prosecutor whose case against Griffin led to the death sentence still believes Griffin was guilty of murder.
St. Louis Circuit Attorney Jennifer Joyce has assigned two homicide prosecutors to investigate if Griffin killed Quintin Moss, a 19-year-old drug dealer shot to death in 1980. Griffin was convicted in 1981 and put to death in 1995.
Griffin, 40, at the time of his execution, maintained his innocence to the end. Now, many people, including some members of Moss' family, believe him.
U.S. Rep. William Lacy Clay, D-Mo., and lawyer Barry Scheck, co-founder of the Innocence Project, a group that works to reopen cases of possible wrongful convictions, were among those who asked Joyce to reconsider the case, pointing to new evidence. Griffin's supporters spoke Tuesday at a news conference.
"What I have heard recently is very troubling and leads me to believe an innocent man was executed for this murder, while the real killers have not been brought to justice," Clay said.
Gordon Ankney, the original prosecutor who is now in private practice, believes Griffin was the killer.
"I believe the jury did the right thing, and nothing's happened that's led me to believe otherwise," Ankney said in a telephone interview.
Sam Gross, a University of Michigan Law School professor who looked into the case, put together a report on the case after a yearlong investigation. That report claims new information suggesting that:
--The first police officer at the scene of the 1980 shooting, Michael Ruggeri, now says that the story told by the supposed eyewitness was false, even though Ruggeri's own testimony at trial supported what the witness said.
--A second victim of the shooting, Wallace Conners, has said he was never contacted by the defense or the prosecution. Conners, now 52, was shot in the buttocks. He said the supposed eyewitness was not present at the shooting.
Conners said he saw the shooter. He knew Griffin, and Griffin was not the shooter, he said.
"I tell all you all, Larry Griffin did not commit this crime," Conners told reporters. "Larry Griffin definitely wasn't in the car."
The only man who testified that he saw the murder at the trial, Robert Fitzgerald, was in St. Louis under the Federal Witness Protection Program.
He later testified at an organized crime murder trial and in other prosecutions. "Judging from news coverage, he developed a reputation as a snitch who couldn't produce convictions because Boston juries wouldn't believe him," Gross' report said. Fitzgerald died last year.
But Ankney said, "I don't think there's any reason to disbelieve the testimony of Fitzgerald."
He said the new information discounts several facts from the case. He said an off-duty officer saw Griffin get in the car used in the drive-by shooting the day of the murder. He said the murder weapon was found in the car. And he said Conners told police twice he wouldn't be able to identify who shot him.
He also pointed out there was testimony that Griffin killed Moss in revenge for the slaying of one of Griffin's brothers, Dennis. Moss had been questioned by police in that shooting, but not charged.
Moss' older brother, Walter Moss, is among those supporting a reinvestigation of the case.
"I myself am not here to accuse, blame or show anger. It's been 25 years since my brother was murdered and 10 years since Larry Griffin was put to death for that murder," Walter Moss said.
Still, he said questions remain about whether the right person was convicted, and he said it's a shame that the Moss and Griffin families are still searching for the truth.
"The message today is to do the right thing the first time and every time, and not to let race, creed, color or convenience determine the importance of how far justice is extended," Walter Moss said.
Theodore Shaw, director of the NAACP Legal Defense and Educational Fund, said the investigation may be too late for Griffin. "It is never too late for the truth," he said.
John Fougere, a spokesman for the state Department of Corrections, said he was unaware of any previous situation where a Missouri case was reopened after an execution.
------
On the Net:
NAACP Legal Defense Fund, Inc.: http://www.naacpldf.org/
Innocence Project: http://www.innocenceproject.org/
Go to Original Article >>>
The views expressed herein are the writers' own and do not necessarily reflect those of Looking Glass News. Click the disclaimer link below for more information.
Email: editor@lookingglassnews.org.