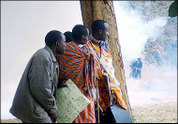 Kenyan maasai tribesmen hide behind a tree after police hurled teargas canisters to disperse demonstrators
More than half of Kenya's 32 million population is in danger of harassment and torture by police, a rights group said in a report that accused security agencies of routinely violating human rights.
"Over half of the Kenyan population lives below the poverty line and are prone to arbitrary arrests and torture," the Independent Medico-Legal Unit (IMLU), a group of Kenyan doctors and lawyers, said in its report for 2005 titled "Rolling Back Torture."
"They also have the lowest level of awareness of their rights with regard to torture and related violations as well as a limited access to the judicial system, and are therefore unable to effectively seek redress when their rights are violated," said the report released here to mark the UN International Day in Support of Victims of Torture.
Of the 208 cases investigated by IMLU, 69 percent were perpetrated by the police force, notably by the Flying Squad Unit.
The report lists incidents where police tortured suspects using methods including sexual humiliation and beatings by gunbutt and garden tools.
"M.L., a 14-year-old orphan girl, was waylaid in August 2004 by two administration police ... they then raped her in turns the whole night," reads one of the case studies of an incident in the western town of Kisii.
Another man in the western town of Bungoma who was arrested for illicit brewing was "stripped naked in public, intimidated and subjected to mockery, insults and sexual humiliation."
Others spoke of being beaten by metal rods and machetes.
Twenty-one percent of the cases had serious medical complications as a result of trauma and abuse, the report said.
In recent weeks, women have accused police of raping them and their daughters while evicting thousands of farmers in the Rift Valley. The claims are yet to be substantiated.
Since President Mwai Kibaki came to power in December 2002, the rights watchdog concedes that progress has been made to cut down violations, but insists that security forces have yet to change.
Cases of torture were common during the regime of Kibaki's predecessor Daniel Arap Moi, whose 24-year regime was marked by police brutality.
"While we are noticing more willingness to dialogue, more openness in visiting places of detention and less obstruction in doing post mortems, we do not see a decrease in the human rights abuses by law enforcement agencies in the country," the IMLU report said.
In 2003, the government enacted a law that barred confessions from being used in court after protest from activists that police were torturing suspects with impunity in order to extract confessions.
But in recent weeks, the country's attorney general has announced plans to reverse the law, arguing that lack of evidence to prosecute suspects has greatly compromised police investigations.
Rights activists have vowed to oppose the move.
The state-run Kenya National Commission for Human Rights and other groups have repeatedly accused police of torturing suspects.
In March, graft watchdog Transparency International said despite a reduction in the number of corruption incidents reported by the public, Kenya's police were still the east African nation's worst graft offenders.
Go to Original Article >>>
The views expressed herein are the writers' own and do not necessarily reflect those of Looking Glass News. Click the disclaimer link below for more information.
Email: editor@lookingglassnews.org.