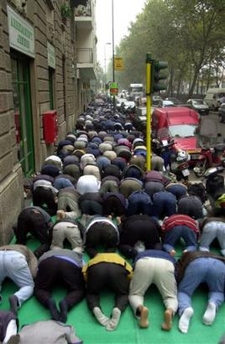 Muslims pray on the sidewalk next to the Islamic center of Milan during the traditional Friday prayer, Friday, Oct. 19, 2001. Italian judge Chiara Nobile has ordered the arrest of 13 CIA agents for allegedly helping to abduct the Egyptian-born imam of the center Abu Omar in February 2003, and fly him to Egypt as part of U.S. anti-terrorism efforts, an Italian official familiar with the investigation.
An Italian judge ordered the arrests of 13 people in the purported CIA abduction of an imam, who then was sent to Egypt, the Milan prosecutor's office said Friday. An Italian official said earlier the 13 were CIA officers involved in U.S. anti-terrorism efforts.
The 13 are suspected of seizing Osama Moustafa Hassan Nasr, known as Abu Omar, on the streets of Milan on Feb. 17, 2003, and sending him to Egypt, where he reportedly was tortured, Milan prosecutor Manlio Claudio Minale said in a statement.
An Italian newspaper said all 13 were American agents.
The U.S. Embassy in Rome and the CIA in Washington declined to comment.
The prosecutor's statement did not name any of the suspects, give their nationalities or mention the CIA by name, but an Italian official familiar with the investigation confirmed newspaper reports Friday that the suspects were working for the CIA. The official requested anonymity because he was not authorized to release the information.
Minale said the suspects remained at large, and Italian authorities would ask the United States and Egypt for assistance in the case.
Prosecutors believe the officers seized Omar as part of the CIA's "extraordinary rendition" program, in which terror suspects are transferred to third countries without court approval, according to reports Friday in newspapers Corriere della Sera and Il Giorno.
The statement said Omar was attacked by two people while walking from home to a local mosque and hustled into a white van. He was taken to Aviano, a joint U.S.-Italian base north of Venice; another American air base in Ramstein, Germany; and then Cairo.
Investigators confirmed the abduction through an eyewitness account and other, unidentified witnesses, the statement said.
The statement said Omar was abused by interrogators in Egypt, according to phone calls made by Omar from Egypt to his wife and another unnamed Egyptian citizen in April-May, 2004.
Italian papers have reported that Omar, 42, said in the calls he was tortured with electric shocks.
On Friday, Corriere della Sera cited another Milan-based imam as telling Italian authorities that Omar had been tortured in Egypt after refusing to work in Italy as an informer.
According to the testimony, Omar was hung upside down and subjected to extreme temperatures and loud noise that damaged his hearing, Corriere reported.
Minale said the judge rejected a request for arrest warrants for six more suspects believed to have helped prepare the operation.
Judge Chiara Nobile ordered the arrests after investigators traced the 13 through check-in details at Milan hotels and their use of Italian cell phones during the operation, the reports in Corriere and Il Giorno said.
Il Giorno said the 13 were American agents, and three of them were women.
Minale said a judge also issued a separate arrest warrant for Omar on terrorist charges. In that warrant, Judge Guido Salvini claimed the seizure of Omar represented a violation of Italian sovereignty, according to Italian news agency Apcom.
Omar was believed to have fought alongside jihadists in Afghanistan and Bosnia, and prosecutors were seeking evidence against him before his disappearance, according to a report in La Repubblica newspaper last year, which cited intelligence officials.
The prosecutor's office said Omar was released by the Egyptians after his interrogation but later was arrested again.
Corriere said Italian police picked up details, including cover names, photos, credit card details, and U.S. addresses that the 13 had given to a number of five-star hotels in Milan around the time of Omar's alleged abduction.
It said investigators also found the prepaid highway passes the 13 used for the journey from Milan to the air base.
The report said investigations showed the 13 ran up $144,984 in hotel bills in Milan, and two couples took holidays in northern Italy after delivering Omar at the Aviano air base.
Go to Original Article >>>
The views expressed herein are the writers' own and do not necessarily reflect those of Looking Glass News. Click the disclaimer link below for more information.
Email: editor@lookingglassnews.org.