Exxon Mobil Corp. had a quarter for the record books. The world's largest publicly traded oil company said Thursday high oil and natural-gas prices helped its third-quarter profit surge almost 75 percent to $9.92 billion, the largest quarterly profit for a U.S. company ever, and it was the first to ring up more than $100 billion in quarterly sales.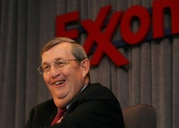 In a file photo Exxon Mobil Corp. Chairman and CEO Lee Raymond laughs during a news conference in Dallas, Wednesday, May 25, 2005. Exxon Mobil Corp., the largest publicly traded oil company in the world, on Thursday, Oct. 27, 2005, said third-quarter profit surged, buoyed by higher crude-oil and natural-gas prices, even as the period's hurricanes hampered production. Revenue grew to $100.72 billion from $76.38 billion in the prior-year period.
Net income ballooned to $9.92 billion, or $1.58 per share, from $5.68 billion, or 88 cents per share, a year ago.
Excluding certain items, earnings were $8.3 billion, or $1.32 per share, versus $6.23 billion, or 96 cents per share, in the 2004 quarter.
Analysts polled by Thomson Financial, on average, predicted earnings excluding items of $1.38 per share.
Revenue grew to $100.72 billion from $76.38 billion in the prior-year period.
Howard Silverblatt, equity analyst at Standard & Poor's, said both the net income and sales figures are all-time records for publicly traded U.S. companies.
The hurricanes slashed Exxon Mobil's U.S. production volumes by 50,000 barrels of oil equivalent per day, down nearly 5 percent year-over-year, costing the company $45 million before taxes. The company said total daily production slipped to 2.45 million barrels of oil equivalent from 2.51 million barrels.
"Following the hurricanes, Exxon Mobil maximized gasoline production from all of our refineries which were operating in the U.S., and increased imports from overseas affiliates to meet U.S. demand," said Chairman Lee R. Raymond.
Earnings from U.S. upstream operations increased by $498 million to $1.67 billion, while U.S. downstream earnings jumped $548 million to $1.11 billion. In the U.S. and abroad, income from the company's chemicals segment declined by $537 million to $472 million, as raw materials costs squeezed margins.
The company cautioned that reduced volumes and higher costs will also hurt the fourth quarter.
Shares of Irving-based Exxon Mobil rose 56 cents, or 1 percent, to $56.76 in early trading on the New York Stock Exchange. The stock has traded in a 52-week range between $48.25 and $65.96.